Dame Vera Lynn in urgent Dover white cliffs preservation plea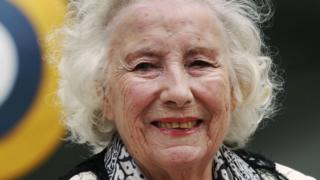 An urgent plea to raise £1m in weeks to protect Dover's white cliffs has been backed by Dame Vera Lynn amid fears the land could be sold to developers.
The National Trust wants to buy 700,000 square metres of "iconic land" behind the cliffs when it goes up for sale.
General manager of the white cliffs, Virginia Portman, said she would be "devastated to lose this opportunity".
Dame Vera, who famously sang about the landmark during World War Two, said preserving the cliffs was "vital".
"They were often the first sight of home for our brave boys," she said.
The trust is bidding to raise the £1m by 22 September.
Dame Vera, who celebrated her 100th birthday at her home in Ditchling, Sussex, this year, became known as the Forces' Sweetheart after her performances of the 1942 classic, The White Cliffs of Dover.
She added: "They continue to represent important British ideals such as hope and resilience even in the most difficult of times.
"It is vital that we do all that we can to preserve this important historical site."
The trust bought the cliff top in 2012, but later found 700,000 square metres of land had become available after the vendor recognised it could support conservation work on the cliffs.
Ms Portman said: "This unique coastal habitat should be open for the whole nation to enjoy.
"I'd be devastated to lose this opportunity to protect it forever."
The land, known as Wanstone Battery, has more than 40 species of flowers and grasses.
It provides a habitat for butterflies including the Adonis Blue and Marbled White, and birds including the peregrine falcon and skylark.
The site also has several structures from World War Two including two large gun emplacements.
The trust wants to return the land to chalk grassland, make the military structures watertight and create access routes for visitors.