Mercian Regiment's mascot ram dies day before big parade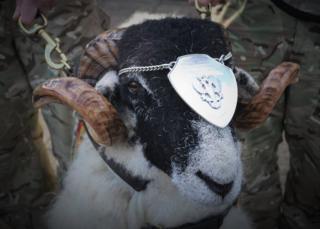 A ram due to lead a parade of soldiers marking ten years of their regiment has died 24 hours before the event.
Mercian Regiment's anniversary parade went ahead without its horned mascot, the 31st Private Derby.
The regiment said it meant the occasion was "a great celebration for us but tinged with sadness".
A 32nd ram would now be sought, it added, saying the animal would retain the traditional Pte Derby name.
Unwell for weeks
Pte Derby XXXI was enlisted in February 2016.
He had, the regiment said, "been unwell for some weeks" and was put down on veterinary advice.
Colonel of the regiment, Brigadier (Retd) Andrew Williams OBE said: "Pte Derby XXXI was a great character, behaving impeccably when on parade and drawing great crowds of young fans who loved to pet him.
"Back in barracks, though, he was never slow to assert his authority and keep the soldiers on their toes."
Mercian Regiment held its anniversary parade in Tamworth, Staffordshire, where it was formed.
It consolidated three regiments in 2007 and recruits soldiers from Staffordshire, Worcestershire, Derbyshire, Nottinghamshire and Cheshire.
The 31 Pte Derbies include rams in Mercian's previous incarnations.
The 32nd, like XXXI before him, is to be selected from rams bred on the Chatsworth Estate in Derbyshire.