More landmarks to show you're nearly home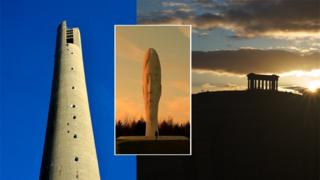 Long journeys can seem even more tedious when they're accompanied by the kids in the back seat asking "are we nearly there yet?" every few miles. So it can be something of a relief when a familiar landmark comes into view, indicating the comforts of home are just around the corner.
From tree-topped tors to man-made monoliths, people shared with BBC News their particular sights - and sites - that means the trip is nearing its end.
Here are some more.
The tree on Whittington Tump, Worcester
A solitary tree stands atop the natural knoll, which rises roughly 20m above the Severn Valley. Also known as the Crookbarrow Hill, the mound is a registered monument with Historic England as the site of a mediaeval fortification.
More importantly to some, though, the tree is a clear sign to those on the M5 that junction 7 - Worcester South - is drawing near.
Kirsten Reeves has nominated The Tump as her family's "coming home tree".
"It is very special to our family. I grew up in Worcester so seeing the tree as we travelled home from holidays on the M5 was always a very exciting moment and symbolised that just 10 minutes of the journey were left.
"After moving away for many years I decided to move 'home' when my husband and I started our family as he was in the navy and spent a long time away. Our two children now love seeing the coming home tree too and always spend the last part of our journeys trying to be the first one to spot it as it emerges.
"My husband has spent a lot of time at sea and after completing an 11-month deployment away from home said that the best thing ever was seeing that tree and knowing he was finally home."
Ouse Valley Viaduct, West Sussex
For Nick Mitchell the Ouse Valley viaduct at Balcombe always marks his return from London to Sussex by train.
He tells the BBC: "I know we are back in the countryside as we cross the magnificent structure.
"As the train soars over the beautiful Ouse Valley, passengers often look up from their newspapers and electronic devices to gaze out over the woods and fields.
"When there's heavy mist or it's dark, it feels like we are flying as you can't see the ground at all."
Lift tower, Northampton
The National Lift Tower is a research facility built to test - you've guessed it - lifts.
The 127m (418ft) tall structure houses six lift shafts of varying heights, one of which is a high-speed shaft with a (theoretical) maximum speed of 10m/s (22mph).
It rose to wider fame when Sir Terry Wogan lampooned it on his BBC Radio 2 programme, dubbing it the "Northampton lighthouse". He even joked the east coast was eroding so quickly that the government had commissioned the "lighthouse" ready for Northampton's new coastal location.
He's quoted as saying: "I don't think it was looked on in an architectural sense by my listeners - they're a bit too dim - we just took it for what it was: a lighthouse in the middle of nowhere."
According to Christopher Watts, for whom it is the landmark that shows he's nearly home, it is known as "Terry Wogan's lighthouse".
"I also have a personal interest as l worked on it for six months during the construction, installing a lot of the lift equipment," Mr Watts says.
Church Langley Water Tower, Harlow, Essex
The Church Langley Water Tower is a conspicuous landmark perched high above and on the west side of the M11.
Sarah Dev-Sherman, originally from Essex but now living in Norfolk, says whenever she and her children visit family "there is always a race with the kids to see who can see the Church Langley water tower first.
"When we see it, it means we're nearly there after a long time in the car. It's such an iconic landmark you cannot fail to notice it."
Sue Simmons from Cambridge also lists it as her favourite sign that home is around the corner. "We always shout 'home cone!' when we see it. People think we're strange, but it is now a family tradition."
The Penshaw Monument, Tyne and Wear
The Penshaw Monument was built in 1844 in memory of John George Lambton, the first Earl of Durham. He was a reforming Whig politician with the nickname "Radical Jack" who inherited vast wealth, created by the coalmining interests on his family's estates, when he was only five.
He then became known as "Jog Along Jack" after saying "a gentleman could jog along comfortably on £40,000 a year".
For local boy Richard Speding, who has lived in London for more than 30 years, the Penshaw (pronounced Pen-sher) Monument is the first thing he looks for when leaving the A1 and joining the A690.
"It's then I know I'm only minutes from the village I was brought up in. If I have the time I will visit and climb up to the top and survey my hometown."
Hidden inside one of the towers is a secret passage which goes to the top of the 20m (66ft) structure - the National Trust opens the winding staircase to the public between Good Friday and the end of September.
Its towering profile is one of the symbols on the badge of Sunderland Football Club.
Dream, St Helens
Dream, a statue of the elongated head of a nine-year-old girl is located on the summit of the former Sutton Manor Colliery in St Helens, Merseyside, midway between Liverpool and Manchester.
It was created by Catalan artist Jaume Plensa after the group of former miners who made up the commissioning committee were unhappy with his first proposal - a statue of a mining lamp. They rejected the proposal and asked for something more "present day and progressive".
Plensa came back with Dream.
It's a homecoming landmark for Maeve and Maurice Harris, who remember the topping off ceremony in 2009 as it was on the same day as the birth of their first grandchild.
"For that reason, we always call her "Your Grace" after our granddaughter Gracie. She's a special reminder of a special time and always makes us smile on the way back to Warrington."
Crooked spire, Chesterfield
The Parish Church of St Mary and All Saints has a vision-bendingly twisty spire, which signifies "home" for John Merry. He says local lore has it that the devil or a witch caused the twist when being expelled from the area.
The spire is made of wood and clad in lead. It's thought the lean on the tower is accidental and arose from the use of unseasoned timber and inexperienced craftsmen, while the twist is a deliberate design.
The church survived underground activities of both coalmining and railway works, as well as two world wars, but nearly succumbed to fire in 1961.
This story was inspired by responses to How do you know when you're nearly home?