Manchester attack: Memorial garden for Nell Jones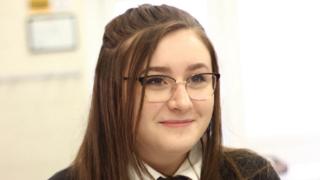 A short story competition and a garden of memories are being created for a teenager killed in the Manchester Arena attack.
Nell Jones was one of 22 people killed when a suicide bomber detonated a home-made bomb in the arena's foyer in May.
A Remembering Nell Fund has been set up to raise money to create the garden at her former school in Cheshire.
Holmes Chapel Comprehensive School head teacher Denis Oliver said Nell's mother would help judge the competition.
Nell's older brother Sam said she would be "over the moon with the concept".
Her mother Jayne Jones, 55, said on the night of the attack on 22 May, it was "surreal". Nell had gone to a friend's house straight from school before they went to the Ariana Grande concert together.
Jayne's son was away but called his mother to ask if she had seen the news of the attack, Ms Jones added it "became apparent quickly what had happened".
"Sam and my other son went round the hospitals and gave her details, she wasn't there. It was about midnight when we were told she hadn't survived," she said.
"Deep down, I knew, I had a feeling. I just knew it wasn't going to be good news."
The 14-year-old's family said the outpouring of support from the community and strangers had helped them through their loss.
Sam Jones, 29, said: "We've visited the flowers in Manchester three times. The first time we were amazed how many there were. We went a second time and a third time and each time there were more and more."
"We're getting through, helping each other, we have bad days, we have good days, we pull together, we're doing ok."
"You can't stop doing things, that means they win, you've got to carry on doing things," Sam added.
"She was everything you'd want in a sister, she was fantastic, funny, irritating, we miss her cuddles."
As well as the short story competition, to honour Nell's love of writing, Mr Oliver said pupils have been invited to write a message on a pebble to place in the memorial garden.