Tatton Park withdraws 'sexist' hats from sale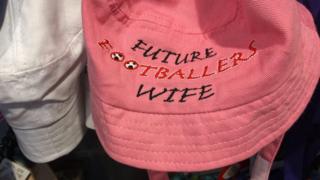 Hats bearing the slogan "Future Footballers Wife" have been removed from sale at a National Trust property.
The headgear was spotted at a gift shop at the Tatton Park estate in Cheshire, prompting derision on social media.
Laura Goss tweeted the trust: "This stupid hat is for sale at Tatton Park. Your young female visitors deserve better merch (+ better grammar)."
Cheshire East Council, which runs the estate, said the hats were a "genuine mistake".
A spokesman said they had been "removed immediately from the shelves as we would obviously not want to upset or cause offence to anyone".
Su-Lin Garbett tweeted: "Unacceptable to promulgate sexism anywhere but especially upsetting from a national treasure like the @nationaltrust."
Wendy Pillar wrote: "How about just 'Future footballer'? England women's team wins more than the men."
The council spokesman said: "Our gift shop receives a bulk supply from our supplier, which includes a number of children's hats.
"Unfortunately, we don't know how this has exactly happened, but we have put the hats out on the shelf as part of that bulk supply without thinking whether they were appropriate for the shop and our visitors."
The National Trust said it had shared the feedback with Cheshire East Council, which had removed the product from sale.