MPs declare sports and bookies as most common donors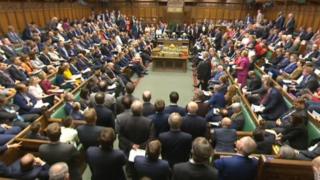 Sports and betting companies top the list of donors treating MPs to gifts and hospitality.
The Ladbrokes Coral group appeared 15 times in the register of members' interests, more than any other donor.
Out of 187 donations from UK sources registered by MPs, 58 were from the world of sport. A further 19 were from betting companies.
Ladbrokes Coral said it wanted MPs to take decisions "from a position of knowledge".
But campaigners for tighter rules on gambling said companies could use hospitality to lobby MPs not to change rules on fixed odds betting terminals.
MPs are required to declare any gifts, benefits and hospitality over a value of £300. The latest register was published on 29 August and most declarations date from the beginning of 2016 to July 2017.
The Ladbrokes Coral Group accounted for 15 entries including trips to Ascot, Doncaster and Cheltenham races, the Community Shield at Wembley and dinner at the Conservative Party conference.
Altogether, the group of companies donated £7,475-worth of hospitality to four MPs, Conservatives Philip Davies (eight occasions - totalling £3,685), Laurence Robertson (four occasions -£2,550) and Thérèse Coffey (twice - £890) and Labour's Conor McGinn (once - £350).
The total does not include any gifts or hospitality worth less than £300 as MPs do not have to declare this.
ITV appeared eight times and Channel 4 was mentioned five times. BBC Northern Ireland appears once.
While Ladbrokes Coral appeared most often it was not the biggest donor in terms of the value of its hospitality.
The largest individual donor in the section on "gifts, benefits and hospitality from UK sources" was the Road Haulage Association, which the register revealed funds a researcher in the office of Dover's Conservative MP Charlie Elphicke at a cost of £22,577.
Mr Elphicke said: "The researcher is looking at how we can be ready on day one for Brexit - particularly at the Dover front line.
"This is vital work for both my constituency and the haulage industry. No-one wants to see long queues of lorries at Dover.
"In this work the interests of the haulage industry and my constituency are strongly aligned. That's why we decided to join forces."
'Wine and dine'
Matt Zarb-Cousin, spokesman for the Campaign for Fairer Gambling, accused Ladbrokes Coral of being "desperate" to keep fixed odds betting terminals (FOBTs) at £100 a spin.
He said: "They will throw as much money as they can. It shows a lot about the strength of their argument that they need to wine and dine MPs."
The organisation wants to see the maximum stake on the terminals cut from £100 to £2 amid concerns vulnerable people can lose a lot of money very quickly.
Its founder Derek Webb has funded the Liberal Democrats and also appeared in previous registers of members' interests as a donor to Labour deputy leader Tom Watson.
The government is conducting a review into FOBTs.
A spokesman for Ladbrokes Coral said: "We employ over 25,000 people, we have a high street presence in nearly every constituency in the land and pay UK taxes of circa £55m per annum.
"Of course we engage with politicians, we want to make sure that when decisions are taken that affect our 25,000 people, they are done from a position of knowledge."
'Poorly funded'
Mr Davies, MP for Shipley and one of the recipients of Ladbrokes' hospitality, said: "I am the elected chairman of the All Party Parliamentary Group for Betting and Gaming - and a former bookmaker - so of course I meet with bookmakers.
"It would be rather extraordinary if I didn't."
Tewkesbury MP Mr Robertson said he did discuss FOBTs with Ladbrokes, but also other issues such as taxation and their relationship with horse racing.
He said: "Very many companies (including the BBC) provide hospitality as a means of lobbying MPs pretty well every day of the week, inside and outside the Palace of Westminster, at various sporting and other events, at party conferences and so on.
"Charities do similar. Some of it is declarable, if it is over the threshold, and some of it isn't.
"I represent the Cheltenham racecourse and am also joint chairman of the All Party Parliamentary Group on Racing and Bloodstock, so have responsibilities in this area.
"Similar to most countries in the world, UK horse racing is very largely financially supported by bookmakers and there is a fear that curtailing their income by reducing the stakes on FOBTs could cause many shops to close which would, in turn, lead to a dramatic reduction in the funding of horse racing, which, contrary to popular belief, is a very poorly funded sport in the first place."
Dr Coffey and Mr McGinn have been approached for comment.