Teacher vacancy rate double in poor areas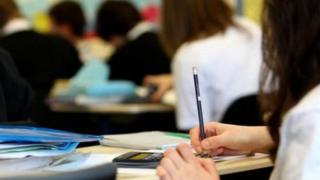 Teacher vacancy rates are at their highest in primary schools in the most deprived parts of England.
Analysis of official data shows on average one in 700 permanent posts were vacant in the least deprived areas compared to one in 312 in the poorest.
The Social Mobility Commission said attracting teachers to work in deprived areas had "always been a challenge".
The government says vacancies have remained stable and relatively low for years.
The BBC's shared data unit looked at teacher vacancy data and statistics on relative deprivation in the UK.
As well as primary schools, there was a strong association between relative poverty and the number of teaching slots filled on a temporary basis in secondary schools in England.
There was not a strong association between levels of deprivation and teacher vacancy rates in Scotland. The data is not recorded in the same way in Wales and Northern Ireland.
John Howson, from TeachVac, said: "Less attention has been paid to the issue in primary schools than in certain secondary subjects.
"I suspect it may be down to the recent growth in the primary school population throwing up more opportunities so teachers can find a vacancy in a less challenging school relatively easily, but I don't yet have the concrete evidence."
The Social Mobility Commission said: "Teachers working in deprived areas may be affected by more pupils in difficult circumstances and with challenging behaviours, heavy workloads and the perceived loss of quality of life in deprived areas."
The wider picture
---
There were 920 vacancies for full-time permanent teachers in state-funded schools in England last year, a rate of 0.3%. The rate has remained below 1% since 2000, according to the Department for Education.
A further 3,280 full-time posts (0.9%) were being temporarily filled on a contract of at least one term but less than a year.
In February, the House of Commons Education Selection Committee published a report into the recruitment and retention of teachers, warning that the government had missed recruitment targets for the past five years.
And the Social Mobility Commission said that since 2014, the rate of teachers leaving has overtaken those entering the profession.
The NASUWT union, which represents teachers across the UK, said there was an "escalating teacher recruitment and retention crisis".
Chris Keates, its general secretary, said vacancies were "being fuelled primarily by excessive workload and year-on-year cuts to teachers' pay".
"This is making the job unsustainable for existing teachers and unattractive for prospective new recruits," she said.
The Department for Education said it was providing targeted support to schools in parts of England that faced "greater challenges" in recruiting and retaining teachers than other areas.
It said: "The number of new teachers entering our classrooms outnumbers those who retire or leave.
"We take teacher recruitment very seriously with a significant programme designed to encourage more good graduates to choose teaching as a career. This includes investing £1.3bn, including generous tax-free bursaries to attract the best graduates into the profession."
Scotland
---
The Scottish government does not publish the teacher vacancy rate in the same way as England.
To determine a vacancy rate, the BBC took data from two sources - the number of vacant posts and temporary filled posts, as published by the Convention of Scottish Local Authorities (COSLA) and compared it to the overall number of publicly-funded full-time teachers in each region.
The median average vacancy rate for primary school teachers across all Scottish local authorities was higher than in England, at around 2.4%, and in secondary schools it was 3.15%.
The Scottish government said: "Although teacher recruitment is a matter for local authorities, we recognise some areas have faced challenges filling vacancies which is why we have taken decisive action to recruit and retain teachers.
"This includes investing £88m this year alone, so every school has access to the right number of teachers. This investment has enabled local authorities to maintain the pupil teacher ratio resulting in 253 more teachers last year."
Wales
---
The Welsh government recognised there could "sometimes be local difficulties in recruiting in certain subjects or sectors" and said it would begin collecting more figures for "greater analysis" itself from autumn.
It said in the decade before latest figures, the pupil-to-teacher ratio had "remained relatively stable (18.0 to 18.6)".
"While there has been an increase of people leaving the profession within five years of training over the last four years the current rate is still lower than it was 10 years ago," it said.
Our analysis found Cardiff had one in nine qualified teachers across Wales as of January 2017, but one in four vacancies advertised between January and June 2017 across the country.
Rod Bowen, from the recruitment website eTeach, said: "It's not the single dynamic you may think - of deprivation leading to fewer quality teachers, it's also a case of the geography of Wales."
Mid-Wales was more difficult to reach by car or rail than the north or south, he said, "so the schools there struggle to recruit from a wide enough pond."
Northern Ireland
---
The Northern Irish Department of Education does not publish vacancy rates, but it does gather information on the vacancies that were advertised and then filled, or which remained unfilled.
Overall, unfilled teacher vacancies in Northern Ireland's grant-aided schools were at their highest point for three years at 28.5% in 2016, while in nursery, primary and preparatory it was 30.7%.
More about this story
---
The Shared Data Hub makes data journalism available to news organisations across the media industry, as part of a partnership between the BBC and the News Media Association.
For more information on methodology, click here. For the full dataset, click here.