Man jailed for murdering partner's missing ex-boyfriend Karl Bunster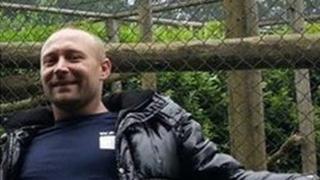 A man has been jailed for murdering his partner's ex-boyfriend whose body has never been found.
Karl Bunster, 37, from Hastings, was last seen in Mann Street on 17 December 2015.
Ben Walton, 49, of Cowick Hill, Exeter, Devon, was found guilty of murder and perverting the course of justice. He must serve at least 30 years in jail.
Stacey McClymont, who once lived with the victim, was jailed for two years for perverting the course of justice.
On Tuesday the 29-year-old was found not guilty of murdering her former boyfriend following a trial at Croydon Crown Court.
Mr Bunster, a scaffolder who worked in Hastings and St Leonards, had been in a "stormy" relationship with McClymont and had lived with her and her two children at her home in Mann Street, Sussex Police said.
Their relationship ended in the late autumn of 2015, but they maintained contact.
In November, McClymont was in a relationship with Walton, police said.
'Bumped down stairs'
On 17 December 2015, McClymont called Mr Bunster and ordered a taxi to take him to her home in Mann Street. He was never seen again.
In the early hours of the following day neighbours reported hearing sounds "as if something heavy was being bumped down the stairs", a police spokesman said.
A van belonging to Walton was parked at the house and bags were seen being loaded in, before being taken to a storage unit in Exeter.
That evening, McClymont told another man who was the father of her children that Mr Bunster had been shot, rolled up in a carpet and taken away, police said.
Forensic officers later found traces of Mr Bunster's blood at the house, and a search of Walton's flat in Hastings found his blood on one of his firearms locked in a gun safe.
Det Supt Jason Taylor said: "Not only were there many conflicting reasons why Karl Bunster may have gone missing from the outset, McClymont and Walton repeatedly lied and tried to distance themselves from the crime.
"Without Karl's body it was not clear what had happened."
McClymont, now of Cowick Hill, Exeter, was released immediately from custody following the hearing after time spent on remand was taken into account.