Second emergency landing for Jet2 plane in two weeks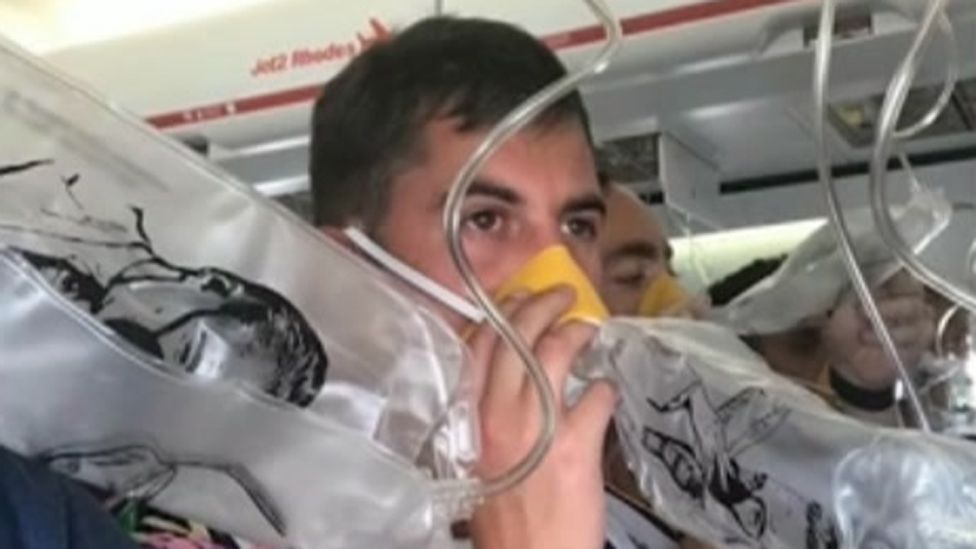 A Jet2 aircraft has made a second emergency landing in as many weeks after an apparent recurrence of a technical problem.
A flight from Ibiza to Leeds was diverted to Barcelona on 16 July.
On Friday, the same plane was diverted to Frankfurt after a similar incident, Jet2 confirmed. It said passenger safety had not been compromised.
Passengers on both flights described how oxygen masks were released as the aircraft began to descend at speed.
Friday's flight had taken off from Newcastle bound for Prague, but it was diverted to Frankfurt after what Jet2 described as a "minor technical fault" that led to oxygen masks being deployed.
Philippa Bell, whose fiancé Joe Monkhouse was on the flight, told the Chronicle the plane went into a swift descent after the pilot informed passengers of an "emergency".
She said the oxygen masks came down and her fiancé felt his ears popping as the plane headed for Frankfurt Airport.
Describing the first flight from Ibiza, passenger Tom Miller told BBC Look North: "You're going down and there is so much panic. It levelled out but it felt so close to the water."
In a statement relating Friday's flight a spokesperson for Jet2 said: "Our flight crew followed procedure and made a controlled descent before landing safely.
"At all times the safety of our passengers is our number one priority... and at no point was the safety of passengers compromised."
Jet2 said the aircraft had been grounded while engineers carry out a "thorough inspection".
Aviation historian and consultant Ken Cothliff said it was "incredibly rare" for a fault to recur on the same aircraft in such a short space of time.
However, he said it was probably down to a simple electrical fault rather than an actual problem with the aircraft.
He added that Jet2, along with other budget airlines, has to adhere to a very stringent maintenance programme.
Related Internet Links
The BBC is not responsible for the content of external sites.