Bradley Lowery funeral: Thousands pay respects to youngster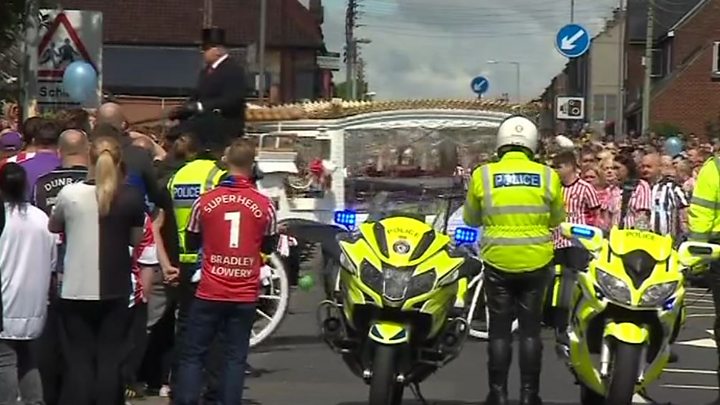 Thousands of mourners have lined the streets of Bradley Lowery's home town for his funeral.
The six-year-old Sunderland fan, from Blackhall Colliery, County Durham, died on Friday following a cancer fight.
Footballer Jermain Defoe, who forged a strong bond with Bradley, joined his family in the cortege.
The service, held at St Joseph's Church in the village, paid tribute to an "incredible little boy with a huge personality".
Roads leading to the church were decked with balloons and tributes. Messages and mementos were also left outside Sunderland's Stadium of Light.
Speakers broadcast the funeral service to the crowds outside the church who were unable to make it inside.
Bradley's family wore football shirts in honour of his love of the sport.
See more on this and other stories on our Local Live page.
His mother, Gemma, told the congregation: "He had a smile so big and beautiful it could brighten any room. A real brave superhero, he left us all too soon.
"He touched the hearts of many - the most inspirational boy. A loving, caring son and brother - a beautiful star.
"Although your time with us was short, you must have a job to do in heaven with the angels as God has chosen you.
"For now my baby we'll say goodbye. We'll meet again our superhero high up in the sky."
Father Ian Jackson told mourners: "Today the football world stands united, whatever our colours, to pay their respects to this incredible little boy with a huge personality.
"As a big football fan, Bradley saw that sport teaches us the basic life lesson that one must get up after getting knocked down. It taught him to never ever quit."
A vigil and minute's applause were also held at Grey's Monument in Newcastle city centre to coincide with the funeral, while balloons were released at the Sunderland's ground.
Stuart Whincup, BBC Look North
A single piper led the funeral procession and the applause down the street could be heard well before the horse and carriage carrying Bradley's coffin could be seen.
It was preceded by a collection of superheroes - including Batman, Spider-Man and Captain America.
Bradley's parents, Gemma and Carl, followed the hearse and behind them came footballer Jermain Defoe - who had flown back in from a pre-season training camp in Spain.
There followed a number of players and staff from Bradley's beloved Sunderland.
At the family's request, hundreds wore football shirts including the red and white of Sunderland, black and white of Newcastle, blue of Everton and green and white of Celtic.
One mourner observed aloud that Bradley had opened the world's eyes to childhood cancer.
Bradley was diagnosed with neuroblastoma aged 18 months.
Having been in remission following treatment, he relapsed last year and his parents were told in December his illness was terminal.
In the months before his death he struck up a friendship with Defoe, who called him a "little superstar".
Bradley also led out the England team at Wembley, attended the BBC Sports Personality of the Year Awards and was a special guest at the Grand National.
Tributes poured in from around the world when his parents announced his death on Facebook.