Church 'colluded' with sex abuse bishop Peter Ball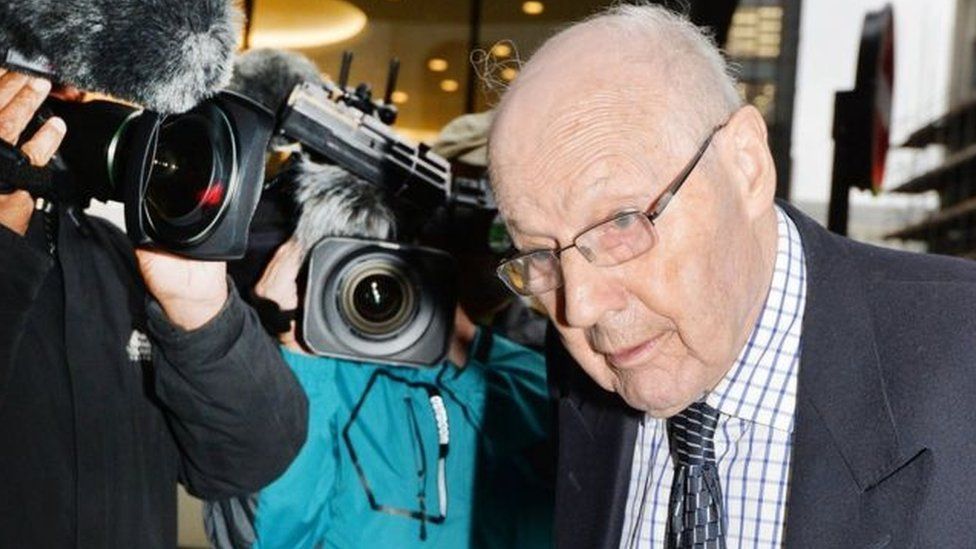 Senior figures in the Church of England "colluded" with a former bishop who abused young men, an independent review has found.
Peter Ball, who is now 85, was jailed for 32 months in October 2015 after admitting sex offences against 18 teenagers and young men.
The former bishop of Lewes and bishop of Gloucester carried out the abuse between the 1970s and 1990s
Dame Moira Gibb's review criticises ex-Archbishop of Canterbury, Lord Carey.
He accepted the criticism and apologised to Ball's victims.
The review found Lord Carey received seven letters from families and individuals following the arrest and cautioning of Ball in 1992 for gross indecency - when he stood down as bishop of Gloucester - but failed to pass six of them to the police.
He also chose not to put Ball on the Church of England's "Lambeth List", which names clergymen about whom questions of suitability for ministry have been raised.
Ball was given funds authorised by Lord Carey to support him.
Lord Carey also wrote to Ball's identical twin brother, Michael Ball - another bishop - in 1993 saying: "I believed him to be basically innocent".
The current Archbishop of Canterbury, Justin Welby, has asked Lord Carey to step down from his position as an honorary assistant bishop within the Diocese of Oxford.
The Bishop of Oxford, the Right Reverend Dr Steven Croft, said the archbishop had asked Lord Carey to talk to him.
"We have agreed to meet in the coming days for that conversation.
"In the meantime he has voluntarily agreed to step back from public ministry," he said in a statement.
Dame Moira, a former senior social worker, said there was a failure of the Church to respond appropriately to misconduct over a period of many years.
In her report, "An Abuse of Faith", Dame Moira said: "Ball's priority was to protect and promote himself and he maligned the abused.
"The Church colluded with that rather than seeking to help those he had harmed, or assuring itself of the safety of others."
The review found that "Ball's conduct has caused serious and enduring damage to the lives of many men... Peter Ball betrayed his Church and abused individual followers of that Church."
In a statement, Lord Carey said the report made deeply uncomfortable reading.
"I accept the criticisms made of me. I apologise to the victims of Peter Ball.
"I believed Peter Ball's protestations and gave too little credence to the vulnerable young men and boys behind these allegations," he said.
The Gibb report makes a number of recommendations about the Church, saying it should "reaffirm and take steps to demonstrate the individual and collective accountability of bishops for the safety and protection of everyone within the church".
Lord Carey said: "I believe the Church is now willing to 'think the unthinkable'.
"I hope… Dame Moira Gibb's recommendations will make it less likely that a prolific abuser such as Peter Ball can flourish in the Church of England."
Related Internet Links
The BBC is not responsible for the content of external sites.