Two men killed after crane collapses in Crewe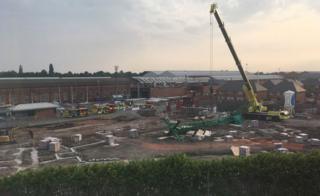 Two men have died and another man has been airlifted to hospital after a crane collapsed.
A parent and child were taken to hospital as a precaution because the falling crane damaged a home.
The airlifted man, believed to be the crane driver, has serious injuries but they are not thought to be life-threatening.
An eyewitness said the crane "slowly started tilting" before it fell on to the building site in Crewe.
Live updates on this and other stories for Staffordshire and Cheshire here
Cheshire Fire and Rescue's major incident unit attended and the Health and Safety Executive (HSE) has been informed.
The construction site belonged to Seddon Homes. Its chief executive said he could not speculate as to the cause of the incident.
Cheshire Police confirmed the fatalities at 22:50 BST on Wednesday, after the crane collapsed at a new housing estate on Dunwoody Way, near the Bombardier works, at 16:30.
'Tilt, tilt, tilt'
The force said the two people at the house were uninjured.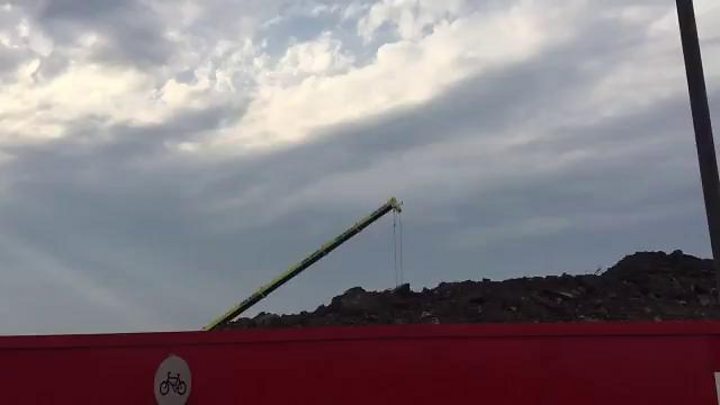 A man who lives nearby, who only gave his name as Jason, told BBC Radio Stoke the crane - being used to help build new homes - had been lifting tools before it fell.
"They finished the work, the crane positioned itself facing Bombardier.
"The guys finished their work and they were still up there when all of a sudden, it slowly just started to tilt, tilt tilt.
"Guys started shouting and it completely fell on the floor."
Ch Supt Matt Welsted, of Cheshire Police, has said: "This is a truly tragic incident, and our deepest condolences go out to the families affected at this extremely difficult time."
Following the collapse, police closed Dunwoody Way at the junction of West Street.
Bodies recovered
Ch Supt Welsted said: "A residential property has been damaged as a result of the incident, the occupants were not injured and were checked over by medical professionals.
"They have since been relocated while the investigation continues.
"The bodies of those who have sadly lost their lives will shortly be recovered from the scene."
He urged anyone with footage taken from the scene to "please respect the families involved" and if any could be of use to the investigation make it available to investigators.
Where did the collapse take place?
The road where a crane collapsed in Crewe is a main route in the centre of the town through a built-up, industrial area.
At one end, Dunwoody Way has Phoenix Leisure Park (a site with a cinema, bowling alley and bingo hall), with routes off to housing estates and a Morrisons.
It then continues past the Bombardier Transportation factory (Crewe's historical railway works) before heading west out of the town.
In a statement Seddon Homes boss Jonathan Seddon said his company was working with the HSE.
"On behalf of everyone at Seddon I'd like to offer my heartfelt condolences to the family and loved ones of those who so tragically lost their lives yesterday.
"At this time I cannot speculate as to the cause of this incident, but needless to say there will be a full investigation and Seddon is working closely with the emergency services and Health and Safety Executive."
Laura Smith, Labour MP for Crewe and Nantwich, said: "It's going to be very important for me today to find out the people who have been affected and make sure the residents are supported and also sending all my thoughts to the families who have lost members."