Just 450 PSNI officers have received up-to-date vetting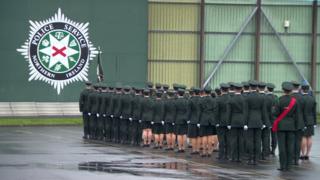 Just 450 PSNI officers out of 6,750 regular police and 333 part-time reserves have had up-to-date background checks.
The figure was obtained through a freedom of information request. The PSNI's vetting policy was revised in January 2016.
Of civilian staff, 221 have been vetted under the new policy.
Prior to 2016, officers and staff were vetted in accordance with previous service policy, a spokesman said.
Vetting aims to help prevent corruption in the police by checking an officer or potential officer's background.
Figures obtained by the BBC, show that thousands of police officers across the UK have not had up-to-date background checks.
Her Majesty's Inspector of Constabulary Mike Cunningham said forces "need to address this matter urgently".
Chief Constable Martin Jelley, from the National Police Chiefs' Council, said forces were "working hard to reduce any backlog".
The Police Federation, which represents rank and file officers, said it was disappointed to see such huge backlogs in vetting.
Its UK chairman Steve White said: "Police officers are privy to an enormous amount of confidential data and information.
"What we can't risk is the prospect of dishonest people abusing that position and being able to access this information or exploit situations for their own ends."