Woman in 'ridiculous pain' has amputation postponed by cyber attack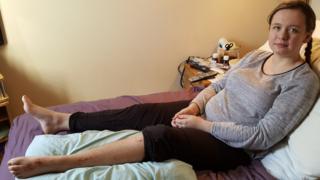 A woman who was "excited" about having her leg amputated has spoken of her upset after her operation was cancelled because of the cyber attack on the NHS.
Jess Laughton, 23, who suffers severe leg pain, said she had been "counting down the days" to the operation.
She was left in tears when the private procedure at Blackpool Victoria Hospital was cancelled on Friday.
Ms Laughton, from Hutton Cranswick, East Yorkshire said she did not know when the operation would take place.
"It took six months to get the anaesthetist and the surgeon in the same room, because my surgeon's very much in demand," she said.
"So it looks like it will be many more months until it can be rescheduled."
Ms Laughton broke her ankle at the age of 12 during a gymnastics competition and developed a neurological condition called complex regional pain syndrome, which has worsened over time.
---
Complex regional pain syndrome
It is a poorly understood condition which sees a person experience severe and debilitating pain, usually confined to one limb but can spread to other parts
It may affect up to one in 3,800 people in the UK, though it is difficult to estimate due to misdiagnosis, and women make up about three of every four cases
Symptoms can include chronic pain; strange sensations in the affected limb; changes to skin, hair and nails, joint stiffness, insomnia and tremors
There is no known cure for the syndrome, but a combination of physical treatments, medication and psychological support can help manage it
Source: NHS Choices
---
She said she had had "all sorts of different treatments" for the condition, which was "more painful than labour" and had become "ridiculously painful".
"I take about 40 medications a day [including] morphine every two hours just to try and take the edge off.
"It doesn't do much more than that, but taking the edge off is better than nothing."
The operation would not completely eradicate her pain, she said, but it would mean she could begin to get her life back.
'Life on hold'
"I'll be able to get around, which I can't do at the moment, because even the vibrations of a wheelchair are too painful.
"When the leg's been amputated, I'll be able to get my independence back.
"I have 24-hour care at the moment, so not only my life is on hold, but [also] my mum and step dad's too.
"I've been bed-bound now for a year and it's long enough. I need to be able to have a bit of a life."
She added that those responsible for the cyber attack, which affected 47 hospital trusts across the UK, "should be made to pay" as they had "no idea what impact they have made on everybody who has suffered because of it".