Hadrian's Wall events showcase Roman cavalry 'bling'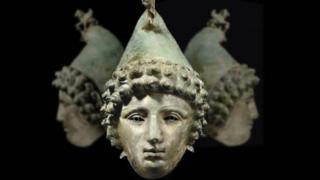 A series of exhibitions showcasing the "bling" of the Roman army has opened along the length of Hadrian's Wall.
Rare artefacts, loaned from museums as far afield as the continent, and from private collections, will be on show at venues from Maryport to South Shields.
These include the Crosby Garrett helmet at Carlisle's Tullie House Museum, and a rare Ribchester-style helmet at Newcastle's Great North Museum.
There will also be re-enactments and other events.
Bill Griffiths, from Hadrian's Cavalry, said: "We wanted to put on an exhibition that really explored what it was like being a Roman cavalryman, not just on Hadrian's Wall, but in the Roman Empire as a whole, because it's a much overlooked topic.
"These guys had all this incredible kit - they were the bling of the Roman army.
"We've got pieces on loan from the British Museum, from the National Museum of Scotland, museums on the continent, and from private collections.
"We have assembled the A list of Roman military equipment."