Belgian service marks Zeebrugge ferry disaster 30 years on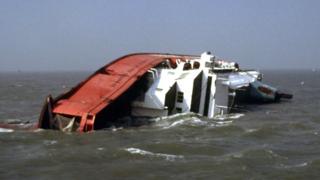 Survivors of the Zeebrugge ferry disaster have attended a church service in Belgium to mark the 30th anniversary of the sinking of the vessel.
They gathered with victims' relatives and rescue workers for a service in the Belgian port close to place where the Herald of Free Enterprise capsized on 6 March 1987.
The accident caused 193 deaths among the passengers and crew.
The church service was followed by a wreath-laying ceremony.
It was attended by Kim Spooner, who was eight when her aunt Mary Smith, 44, and uncle Neil Spooner, 37, died aboard the Townsend Thoresen roll-on roll-off British-flagged ferry.
She said: "I remember waiting up all night to see if they would ring to say that they were OK, and of course the call never came."
Rene Tytgat, a senior nursing officer at the time, remembers wondering if it was true.
He said: "A ship, such a big ship, which capsized in front of the harbour - that was unbelievable, but it happened."
Testimony from one of the survivors who was 16 at the time was read out by the Reverend Alexander Eberson, chaplain of the Port of Zeebrugge.
It said: "I thought that I was going to perish there, in that ship."
After the disaster, a public inquiry confirmed the ferry had left with its bow doors open, allowing water to flood the car deck, and the crew member responsible for closing them was asleep at the time.
Townsend Thoresen, which later became P&O European Ferries, was severely criticised in the inquiry report.
Safety regulations
And in October 1987, an inquest jury returned verdicts of unlawful killing.
Three years later, a manslaughter trial of eight defendants, including the company, collapsed.
International ferry safety regulations were tightened after the sinking.
Families affected by the disaster will gather at a church service on Dover on Monday.