North-east business leaders urge 'no rates change rethink'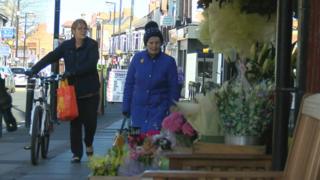 Business leaders in north-east England are urging the government not to rethink a proposed business rate rise.
Labour has warned new valuations due to take effect in April will lead to "cliff-edge" rises for some firms.
But the North East Chamber of Commerce (NECC) said the changes would benefit thousands of companies in the region.
Whitley Bay restaurant owner Julie Summers said her rates would drop from £1,000 per month to about £350.
"It was actually working out more than our rent," she said. "It was our biggest bill every month."
Although the NECC supports the business rate revaluation, it is demanding a complete overhaul of the system.
Director of policy, Ross Smith, said there was "no other tax that works in that same way and it doesn't bear any relation to a business's ability to pay".
Hartlepool Labour MP Iain Wright welcomed that businesses in region "would generally pay less", but said business rates were a "bad tax" that can be a disincentive to investment.
Stockton South Conservative MP James Wharton said the "welcome shift" was good for the region, but accepted "there's an argument for always reviewing all taxes".
Communities Secretary Sajid Javid is considering a transition fund to help firms facing large rises.
Ministers said three quarters of businesses would pay the same or lower rates under the revaluation, which is the first since 2010.
The government estimates payments will go down across the North East by 11%, with some paying nothing.