Duchess painting purchase 'stuns' avocado artist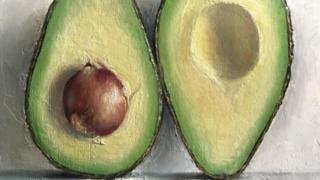 An artist has said she is "just stunned" after selling one of her paintings to royalty.
Camilla, the Duchess of Cornwall, paid £300 for the piece by Helen Brayshaw, from Ilkley in West Yorkshire.
The duchess spotted the oil painting, Halved Avocado, while visiting the Ferens Art Gallery in Hull with the Prince of Wales on Wednesday.
Their tour of the gallery's £5.2m revamp was timed to coincide with the City of Culture 2017 celebrations.
Live updates and more from East Yorkshire
The duchess had asked if she could buy a painting by another artist but was told that particular one was not for sale.
She then spotted Ms Brayshaw's still-life, one of about 330 works of art in the open exhibition.
Ms Brayshaw, who is studying a masters degree in fine art at Leeds University, tweeted: "I've never been so thrilled to be second choice".
She said: "I didn't think anyone would buy it, if you blink you'll miss it. I was just stunned really."