Adam Johnson in second jail sentence appeal bid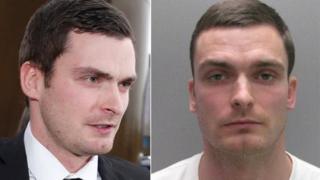 Disgraced ex-England footballer Adam Johnson has launched a second legal bid against his conviction for sex acts with a 15-year-old girl.
The 28-year-old was jailed for six years in March 2016 for sexually touching and grooming the schoolgirl.
He was turned down leave to appeal against his conviction and sentence last year but has now launched a second bid.
His case is due to be heard at the Court of Appeal on 28 February.
Johnson's trial at Bradford Crown Court heard that he kissed and touched the schoolgirl in his Range Rover in a secluded spot in County Durham.
He admitted grooming the girl and one charge of sexual activity relating to kissing her.
A jury found him guilty of sexual touching. He was cleared of one charge relating to another sexual act.
Judge Jonathan Rose told him there had been "an abuse of trust - you are trusted by young fans to behave properly" and ordered him to pay £50,000 of the prosecution's £67,132 costs.
Children's charity the NSPCC also condemned Johnson after his trial, saying: "Adam Johnson cynically used his celebrity status as a professional footballer to groom and sexually abuse an impressionable schoolgirl.
"His behaviour throughout was inexcusable, made even worse by the fact his not guilty pleas forced his young victim to suffer the harrowing experience of giving evidence in court."
The former Middlesbrough, Manchester City and Sunderland midfielder will be asking the court for permission to appeal against his conviction and sentence.
His sister, Faye Johnson, who has led a campaign to have his conviction overturned, tweeted: "Pleased that we now have a date for Adam's appeal against conviction and sentence. I hope that justice can finally be done for my brother."