Football abuse victim 'suffered breakdown'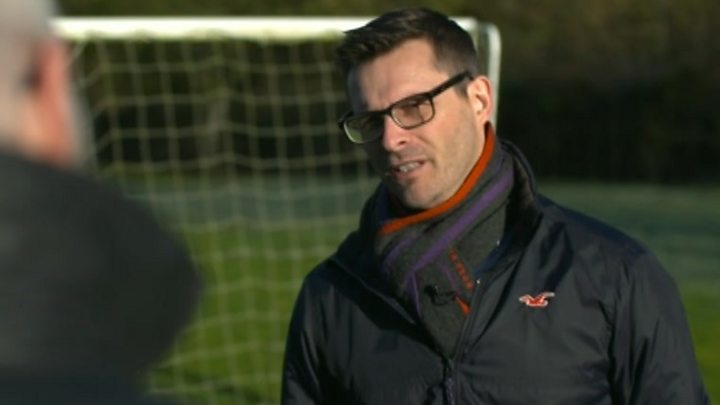 A former youth footballer has said he had a nervous breakdown caused by psychological abuse by a former Southampton FC youth coach.
Jason Upshall is one of two more players to make allegations about Bob Higgins who coached them in the 1980s.
Another man claims he received groin area massages while half naked.
Mr Higgins was cleared of sexual abuse charges in 1992 and has always denied any wrongdoing.
Mr Upshall, 44, from Street, Somerset, was one of a number of young players who were taken on as apprentices at Southampton FC after training at the Bob Higgins Soccer Academy near Bath.
'Couldn't eat'
He said he suffered a breakdown months after being ordered to take part in naked soap and water massages with other team mates while on a tour in Sweden with the team in 1988 when he was a young teenager.
"For years I couldn't eat in front of people. I don't like crowded rooms.
"I could cry every day, but you can't let yourself cry."
Nick Good, 44, from Yate, who also trained in Bath, said he received massages to his groin.
'Bit of fun'
"[We were] naked from the waist down," he said.
"It was deemed acceptable and a bit of fun. It was sort of a running joke."
Mr Good said he often stayed overnight at Mr Higgins' house in Southampton.
"The first time I went there I went into the front room and Bob was there.
"The really bizarre thing is he had two young boys sat either side of him.
"At my age, 12 or 13 at the time, I just accepted it for being 'that's what you do'."
In December it was reported that six former Southampton youth players had made allegations against Mr Higgins.
The BBC has asked Mr Higgins for a comment, but he has not responded.
Previously he has always denied any allegations of wrongdoing.
The allegations of abuse will be investigated in BBC Inside Out West at 19:30 GMT on Monday 23 January.