Shropshire dog trainer's Rottweilers killed 35 lambs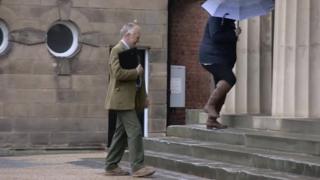 A dog trainer whose two Rottweilers killed dozens of lambs has pleaded guilty to allowing his animals to be dangerously out of control.
The two dogs killed 35 lambs at a farm in Risbury, near Leominster, in September. Another 20 lambs were so badly injured they had to be put down.
Charles Ross-Robertson, 64, from Stanton Lacy, Ludlow, will be sentenced at Hereford Crown Court on 14 March.
An application has been made for the dogs to be put down.
A charge of being in possession of an offensive weapon in a public place will lie on file.