Hospitals in Bristol and Somerset are on high alert after New Year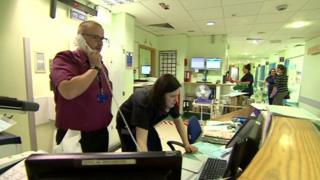 Six out of seven hospitals in Bristol, Bath, and Somerset are struggling to cope with emergency admissions.
Hospitals in Yeovil, Weston-super-Mare, Royal United Hospital in Bath, and Bristol are experiencing the highest level of demand on resources, known as Opel 4 status.
Routine operations have also been postponed due to the rising demand.
Health bosses are urging people to use A&E for serious and life-threatening emergencies only.
The hospitals currently on Opel 4 status are Bristol Royal Infirmary, Bristol Royal Hospital for Children, Southmead, Yeovil District Hospital, and Weston General.
Taunton's Musgrove Park Hospital has said it is operating at Opel 3 status which means it is experiencing "major pressures compromising patient flow".
Elderly patients
Bristol, North Somerset and South Gloucestershire CCGs said in a statement: "We have robust plans in place to manage demand and restore capacity to the system.
"We have already implemented measures such as deploying extra staff to local A&E departments, increasing capacity within community and primary healthcare and rescheduling routine operations and outpatient appointments."
Health bosses in Somerset said today's demand was due to the large number of frail and elderly patients being admitted with complex problems over the past 24 hours.
A Yeovil District Hospital spokesman said: "The highest demand overnight was on Yeovil District Hospital which opened an additional 30 beds overnight to manage the numbers of patients being admitted by ambulance, many of whom were from surrounding rural villages."