Mother and five puppies taken from kennels in Farlow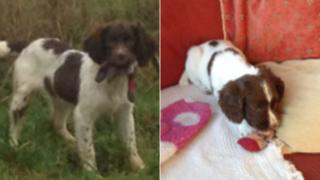 A cocker spaniel dog and her five puppies have been taken from their kennels.
Two or three men were seen going to a property in Farlow, Shropshire, on 22 December, West Mercia Police said.
A black puppy was later seen running around in Bromsgrove, Worcestershire, and has been returned to her owners.
The men arrived in an 'old-shape' silver Ford Ka with a black plastic bumper, police said.
All the missing dogs have docked tails.