Only three passengers on BA flight enjoy champagne and selfies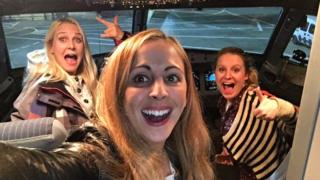 Three British Airways passengers had a once-in-a-lifetime flight after finding they were the only ones on board.
Lawrie-Lin Waller, 33, said she and her friends were upgraded to business class, treated to bottles of champagne, and posed for selfies with the captain.
And on their trip from Gibraltar to Heathrow on 17 December, her friends Laura Stevens, 34, and Sarah Hunt, 35, enjoyed three-course meals.
Ms Waller said: "We're never going to experience anything like that again."
---
You might also like...
---
She said their plane had been delayed, but when they arrived at Gibraltar airport everyone else had boarded an earlier flight.
Ms Waller, from Glasgow who is staying with her family in Witney in Oxfordshire over Christmas, said: "We were the only ones in the airport.
"It was very, very quiet, some of the duty-free shops were closed. and I thought 'oh that's strange'.
"I realised the only other people were staff and we were the only people on the flight."
She said once the three friends were on the plane the crew "found it very funny".
She said the captain told them he had never flown a flight with just three people on it before.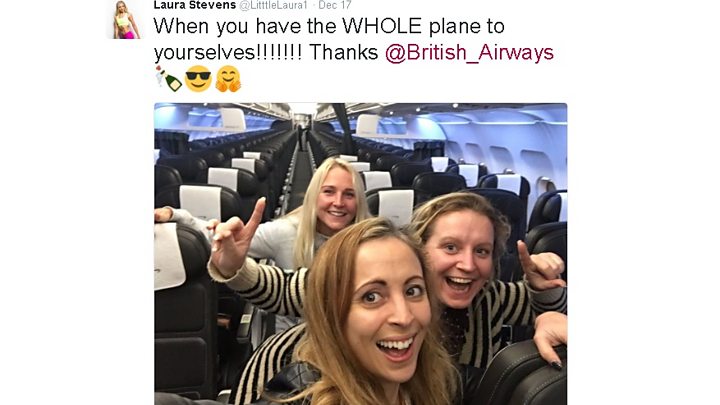 "They made us feel absolutely fantastic," Ms Waller added.
"I asked, 'is it okay if we sit in business class, instead of way back at the end of the plane?'
"And they said, 'yeah, sit right there in the front row' and they served us Champagne, which was lovely."
She said when it was time to land the pilot actually came out of the cockpit to tell them how they were going to land.
"[He said] it was going to be 'a blind landing', I think it's called, using only the radar," Ms Waller said.
"So I said at that point, 'I think we need another bottle of Champagne'."