Bestival moving from Isle of Wight to Lulworth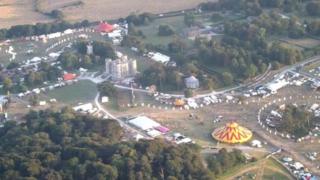 Bestival organisers have said they are moving the festival from the Isle of Wight to Dorset.
The four-day event is to be held at the Lulworth Estate in September on the same site as Camp Bestival - a family event which takes place in July.
Organiser Rob da Bank said the decision was down to the "boring economics of getting people on to the island".
Bestival has been held at Robin Hill Country Park, near Newport, annually since 2003.
'New island event'
The DJ and festival founder, who lives on the Isle of Wight, said: "It's been a bittersweet morning. Things have really stacked up against us in a really boring economic fashion.
"Every year it's just been something that has been brewing and we needed to make the move now otherwise we would have been struggling.
"We remain fully committed to supporting the Isle of Wight through music, charities and projects. Plus, we're working towards a new event for the island."
Jonathan Bacon, leader of Isle of Wight Council, said: "I think people have been aware that big events on the island have been struggling.
"It's an extremely sad situation for Bestival which is so closely linked to the island but I'm sure the organisers have not made this decision without thinking very carefully."
Ian Jenkins, general manager of the Isle of Wight Chamber of Commerce, said: "I think it's sad. It's been here for a long time. It must have been a fairly big decision.
"It's encouraging that he's thinking about putting something else on. What we can do as an island is make sure we are always available for people to put on good quality events to attract people into the county."
'Wobbly economy'
Festival organisers said they had submitted plans to Purbeck District Council and were in a 28-day consultation period.
Bestival takes place on 7-10 September and is hoped to attract about 40,000 people, although the official capacity is expected to be higher.
The 2016 event in Newport had a capacity of 55,000 but only 40,000 tickets were sold.
At the time, Rob da Bank blamed competition and a "wobbly economy" for a changing festival landscape.
Camp Bestival, which is aimed at families with children, takes place on 27-30 July 2017 in the grounds of Lulworth Castle and attracts 35,000 people.
Organisers said the two festivals would "remain distinct and separate events".