Southern strike: 'Progress made' at Acas talks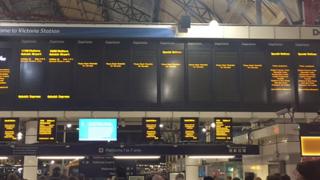 Talks aimed at ending strikes on the Southern network have seen some progress but a planned strike will still go ahead on Friday, Aslef chief Mick Whelan has said.
Negotiations between the rail operator and the train driver's union at conciliation service Acas have been adjourned but will resume on Thursday.
The talks took place as a strike by train drivers entered its second day.
All Southern services were cancelled and passengers told not to travel.
As he left Wednesday's talks at Acas, Mr Whelan said: "We're back in talks again tomorrow morning and we hope to make progress then.
"I believe the attitude by both parties has been positive today."
And when asked if Aslef would call off Friday's strike, Mr Whelan said: "When we get a sign of goodwill that's mutually acceptable to both parties within this process, maybe we can consider that."
Southern's parent firm Govia Thameslink (GTR) issued a statement which said: "Talks have adjourned for today. We are reconvening tomorrow morning at Acas."
Earlier, the RMT union reacted with fury after its leader said he was banned from the talks.
General secretary Mick Cash said he arrived at Acas but was not allowed in.
Mr Cash said the RMT, which represents conductors, had been expecting discussions but instead "had the door slammed in our faces".
He said: "Southern rail were fully aware last night that I would be attending the talks this morning at Acas alongside our Aslef colleagues.
"This morning, on arrival for the talks, I was told that I would not be allowed to take part by representatives from the company.
"RMT is furious at the complete contempt that has been shown to us by Southern rail this morning which leaves us in a state of limbo when we should all be around the table thrashing out the issues that have led to the current action."
Nick Brown, chief operating officer of parent company Govia Thameslink Railway (GTR), said he had told Mr Cash they would be happy to meet him later.
Mr Brown also said he had told Mr Cash they would be happy to to talk about any new proposals he had, adding: "I also asked him to call off their programme of strikes planned for Christmas and new year."
GTR said Aslef represented nearly 1,000 Southern drivers, while the RMT represented only 12.
On Tuesday transport secretary Chris Grayling dubbed the action a "deliberate act of militancy" and claimed Aslef had warned him to expect "10 years of industrial action" at a meeting in September.
He further accused unions of "deliberately trying to bring [the railway] to its knees" and dismissed claims the strike was about commuter safety as "palpable nonsense".
The government also said it may consider banning strikes on the railways.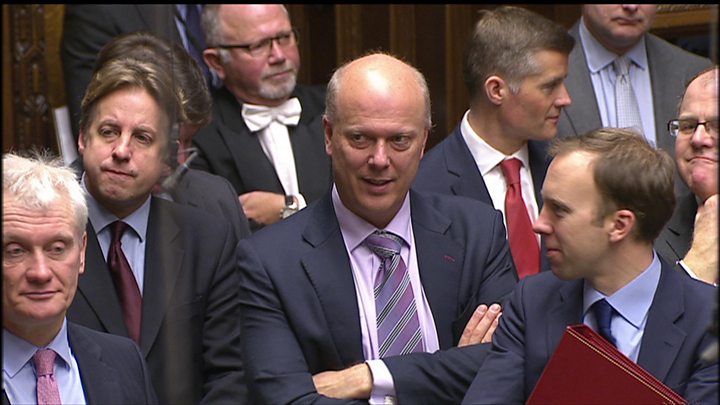 The politics behind the Southern rail dispute
What's the Southern Rail strike about?
How bad have Southern rail services got?
London Mayor Sadiq Khan has said the government should stop "playing party politics" and "get a grip".
He said Mr Grayling was "playing party politics with commuters".
"I share the anger and frustration of commuters. My message to the trade unions is get back round the table and sort this out through Acas," the London Mayor said.
"My message to the government is 'get your head out of the sand, get a grip and let's sort this out'.
"Govia has been taking the government and passengers for a ride now for years.
"It can't be beyond the wit of the government to get their head out of the sand and get a grip."
The Department for Transport (DfT) said it was not within Mr Grayling's powers to strip Southern of its franchise.
The DfT also said the dispute was between Southern and the unions and "not something the government is involved in".
The 48-hour strike on Tuesday and Wednesday by members of the drivers' union Aslef over the introduction of driver-only trains is due to end at midnight.
A limited Gatwick Express shuttle service to and from London Victoria is operating every 30 minutes and Thameslink is operating a normal timetable.
On Tuesday, the first day of the drivers' strike, Southern was forced to cancel more than 2,200 services, disrupting hundreds of thousands of passengers.
A further 24-hour strike is planned for Friday.
Southern strikes: As it happened
The RMT union, which has been staging separate strikes since April over changes to the role of conductors, is also planning further stoppages either side of Christmas.
GTR has advised customers not to travel on the dates affected by the drivers' strike, and to expect disruption every day until further notice because of an overtime ban.
---
Analysis by Helen Catt, BBC South East Political Editor
This dispute is a particularly tricky one to crack, not least because of the unique way the Southern franchise works.
The government pays Govia Thameslink billions of pounds to run Southern, but keeps all the money raised from tickets itself.
It's an unusual arrangement which came about because disruption from engineering works at London Bridge posed a big financial risk to any train company taking on the Southern routes.
What it also means is that the government has significant influence on the contract and it is understood to be very keen to push through Driver Only Operation (DOO).
With the loss of revenue on tickets, thought to be £38m by the end of the year, borne by the taxpayer, Southern arguably has less incentive than other companies to end the strikes.
And on the union side, they know their action can't stop the rollout of DOO on Southern, which will actually be complete in a couple of weeks' time.
But they don't agree with it and really want it reversed, so there is no deadline after which their industrial action becomes redundant.
Add this to the fact that the government won't be in the room at Acas and it looks like it could be pretty tough to get a resolution.
---
Southern planned rail strike dates
00:01 Tuesday 13 December to 23:59 Wednesday 14 December (Aslef)
00:01 Friday 16 December to 23:59: Friday 16 December (Aslef)
00:01 Monday 19 December to 23:59 Tuesday 20 December (RMT)
00:01 Saturday 31 December to 23:59 Monday 2 January (RMT)
00:01 Monday 9 January to 23:59: Saturday 14 January (Aslef)
---
Are you a commuter who has been impacted by the disruption on Southern rail services? Or are you an employer whose staff have been struggling to get to work? Email haveyoursay@bbc.co.uk with your views and experiences.
Please include a contact number if you are willing to speak to a BBC journalist. You can also contact us in the following ways: