Great Western Railway cleaners to strike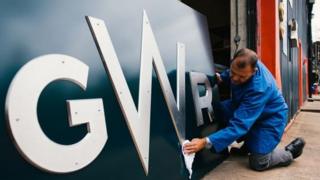 Contract cleaners for Great Western Railway are to stage two day-long walkouts before Christmas.
The Railway Maritime and Transport Union (RMT) confirmed union members employed for sub-contractor Servest UK would be striking across the network.
The dispute centres on the use of agency workers and pay parity with GWR staff.
RMT general secretary Mick Cash said cleaners were being "mercilessly exploited".
GWR said: "We are aware contract staff at Servest, which carries out cleaning on board our trains, are planning to take industrial action later this month.
"We do not expect this to affect our services, and strongly encourage both parties to continue discussions to resolve the dispute."
Action by workers will run from 05:59 GMT on Friday until 05:58 on Saturday and 05:59 on Friday 23 December until 05:58 on Saturday 24 December.
Pay parity
RMT balloted 189 members and had a 58% turnout.
Mr Cash said 98% of workers who took part in the ballot voted for strike action.
He added: "Our cleaner members have voted decisively for action on GWR.
"RMT will not stand by while they are mercilessly exploited by privateers, while rail companies fill their coffers as fares soar through the roof.
"GWR and Servest UK need to do the right thing and immediately resolve the issues relating from the transfer of staff and bring these workers back in house so that they are on the same terms and conditions as the rest of the staff."
He said the union remained open to talks and the action was unlikely to affect the operation of rail services.
However, it would mean passengers travelling on trains that had not been cleaned.
RMT officials want current agency workers to be made staff, but has also asked for the annual leave provision and the issue of safety clothing to be reviewed.