Man jailed for life for Philip Fox tent shotgun murder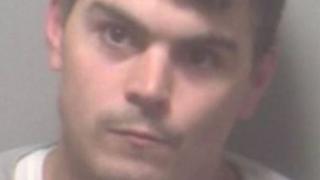 A gunman who shot dead a homeless man has been jailed for life, with a minimum term of 30 years.
Richard Donovan, 26, from Eltham in south-east London, killed 59-year-old Philip Fox in a remote wood in Wincheap, Canterbury in August 2015.
Mr Fox's skeletal remains were found in his tent on 25 April.
Maidstone Crown Court heard how Donovan was arrested the next day by police, who linked shotgun pellets found in the victim's body to his killer.
Mr Fox had been homeless in the Canterbury area for several years.
A post-mortem examination showed he had died from shotgun injuries to his lower body.
'Gave him a beer'
The pellets in Mr Fox matched ones found lodged in a garden shed that Donovan had fired at while he was staying in Ramsgate, Kent Police said.
"Mr Fox had been followed and approached by Donovan who, under the influence of alcohol, had become paranoid that the victim had seen him with the shotgun near to the wasteland in Wincheap," a police spokesman said.
"Donovan sat down with Mr Fox by the tent, gave him a beer and engaged him in conversation before murdering him."
Det Ch Insp Tony Pledger said: "Donovan is a dangerous individual who, fuelled by drink, shot an unarmed homeless man.
"There can be no reasonable explanation for his dreadful actions and the unimaginable loss he has caused."
Tony Hindmarsh, 36, of Greatstone near New Romney, was not found guilty of supplying Donovan with the murder weapon but had previously admitted possessing prohibited ammunition.
He was sentenced to 12 months in prison.