Cambridge to Oxford road 'may cost £3.5bn'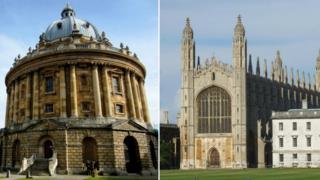 A new road between Oxford and Cambridge could cost up to £3.5bn, the Department for Transport has estimated.
The project, dubbed the Oxford to Cambridge Expressway, is part of plans to invest in infrastructure to promote economic growth in the area.
Chancellor Philip Hammond committed to investing an additional £27m to the project in his Autumn Statement.
The predicted cost was announced in a new report which identifies proposed options for where the road will go.
The estimated amount for road construction, as well as work to widen and improve existing roads, varies in cost from £3bn to £3.5bn.
'Significant growth corridor'
The report offers three options for where to place the road which are:
In August a government study announced a "brain belt" expressway between the two cities would boost the country's economy, and the most recent study said the area around Oxford, Milton Keynes and Cambridge was "one of the most significant growth corridors in the country".
An expressway is defined as a dual carriageway or road comparable to a motorway which links two specific destinations.
The report also estimates the road could reduce journey times between the M4 and M1 by about 40 minutes at peak times, as well as increase the catchment area for workers at Oxford Science Park by nearly 470,000.
Future Roads director at the Department for Transport Philip Andrews said: "The Oxford, Milton Keynes and Cambridge corridor is an incredibly important area for our economy and the study has identified a strong case for intervention, which is supported by the National Infrastructure Commission."