Lasers to help uncover hidden past of Weardale and Upper Teesdale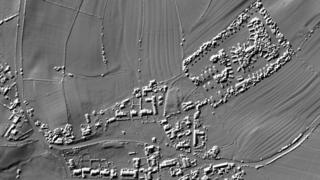 Laser beams are to be used to uncover what lies beneath the surface of a Northern beauty site.
The North Pennines Area of Outstanding Beauty Partnership (AONB) is to study the landscapes of Weardale and Upper Teesdale.
LiDAR - Light Detection and Ranging - uses targeted laser beams to survey ground below the surface.
It is hoped detailed images will provide clues about what the area was like centuries ago.
Funding has come from a Heritage Lottery Fund grant.
Paul Frodsham, LiDAR landscapes officer at the AONB Partnership, said: "LiDAR has revolutionised how we look at the historic landscape.
"Patches of uneven ground that have so far gone unnoticed, whether in ploughed fields or on open moorland, will become clearly visible on LiDAR maps.
"A similar project in the Allen Valleys recently recorded more than a thousand 'new' sites, dating from prehistoric to recent times."
Experts from the partnership will work alongside volunteers as part of the project.
The North Pennines is one of 38 AONBs in England and Wales, designated for their nationally important landscapes and wildlife, and sits between the national parks of the Yorkshire Dales and Northumberland.