Harry Arrowsmith funeral: Facebook appeal brings in crowds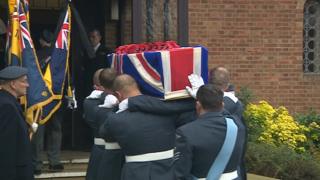 More than 100 people attended the funeral of a former RAF rear gunner after an online appeal by a family friend received a huge response.
Steve Warren wrote on Facebook on Saturday asking people to come to Harry Arrowsmith's funeral at the Robin Hood Crematorium in Solihull, West Midlands.
The 91-year-old died on 8 November, survived only by his sister.
Members of the RAF, Royal British Legion, former servicemen and the public attended Thursday's ceremony.
More news from Birmingham and the Black Country
Mr Arrowsmith served in the RAF during World War Two before becoming an engineer after leaving active service.
He was married to wife Joan for 60 years until her death in 2010. They had no children.
Mike Stokes, station warrant officer at RAF Cosford in Shropshire, said it was important to keep telling the "truly extraordinary" story of people like Mr Arrowsmith.
"It's really important we respect those forefathers that have gone before us [and] that have shaped the history of the air force," he said.
Mr Warren, who served with the Royal Engineers and had known Mr Arrowsmith since he was a child, was delighted with the turnout.
"All I did was put a small note out on Facebook in some closed groups, and all the guys on there just picked it up and ran with it," he said.
"It's heartening that so many people have gone out of their way and took the time to actually come down and give him the send-off we think he deserves."