£7m bid to repair flood-prone Playhatch Road in Sonning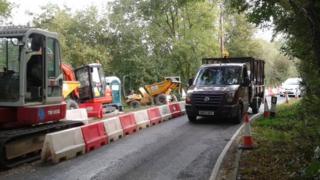 A £7m bid for government funding will be made to prevent flooding on a commuter road.
The surface of the B478 Playhatch Road in Sonning cracked and its embankments eroded when river levels rose in 2014.
It was closed for weeks and then reduced to one lane for safety reasons by Oxfordshire County Council, causing traffic congestion around Reading.
The council wants to raise the road and put in culverts to divert streams beneath the surface.
The town is now home to prime minister Theresa May and film star George Clooney.
Oxfordshire County Council made a failed bid for government funding last year.
If the funding bid is successful, local residents will be consulted ahead of work scheduled for the summer of 2018.