Compensation for teacher Marcus Marcussen's abuse victims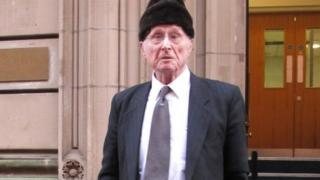 Eight victims of a teacher who was jailed for sexually assaulting schoolboys have been awarded £80,000 compensation.
Marcus Marcussen, who worked at Illmington Road Comprehensive School in Weoley Castle, Birmingham, assaulted 12 students between 1957 and 1978.
Law firm Irwin Mitchell said Birmingham City Council had agreed various settlements with eight victims.
The council said inquiries into the remaining claims were ongoing.
More updates from Birmingham and the Black Country
Marcussen, of Rochford, near Tenbury Wells, Worcestershire, was jailed for nine years after pleading guilty to 25 counts of indecent assault on boys.
His victims were targeted during and after PE lessons and at a swimming club called the Square Club in Weoley Castle.
Lawyers have been taking action against Birmingham City Council as the authority responsible for the school where the offences took place.
A spokesman for Irwin Mitchell said several larger claims were still being processed.
Lawyer Raman Dhillon said: "Thankfully we are able to help them to receive the help and support they need to overcome the impact the trauma has had on their lives."
Colin Diamond, Birmingham City Council's executive director for education, said: "I can confirm that out-of-court settlements have been reached in eight of the claims and investigations regarding the remaining claims are ongoing."