George Barker stabbing: Mum calls killers 'animals'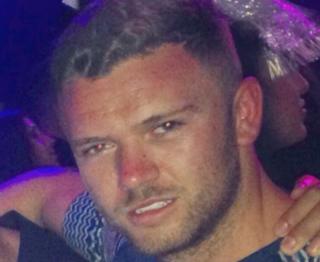 The mother of a man who was stabbed outside a gym has described her son's killers as "animals".
George Barker, 24, was found fatally injured outside the Double K Gym in Stable Lane, Bexley, south-east London, at about 09:40 GMT on Monday.
The father of a week-old baby girl, Mr Barker, of South Darenth, Kent, died of stab wounds to his chest and abdomen, a post-mortem examination revealed.
Mother Julie Barker said: "They're just filth, animals, that's all I can say."
'Just terrible'
She added: "I don't know another word to say - inhuman, not human. I don't know."
She said many of his friends had laid flowers at the scene.
Ms Barker said: "He had so many friends. It's just terrible
"I've shook for the last three days."
Friend John Murray said: "He had this bright smile... the memories are just unreal."
James Faint, another friend, said: "Everyone around here, we're all in bits... it's a big shock to us all."
The Metropolitan Police said no arrests have been made.
Kieran Keddle, owner of the Double K Gym, said it would be "shut for a while".