Midlands Militant leaders apply to rejoin Labour Party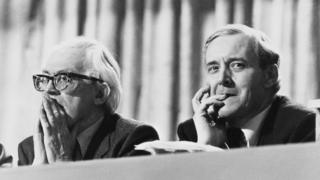 For those of us with long memories, it rekindles vivid recollections of the internecine strife, red in tooth and claw, and above all, the sheer poison, which took the Labour Party to the brink of pressing the self-destruct button three decades ago.
All the combatants in those epic struggles throughout the early 1980s were convinced it was the battle which would define the destiny of their party.
On one side: the hard Left, often Trotskyite, activists who seized control of much of the party machinery at the expense of "pro-capitalists" including the former Prime Minister Jim Callaghan and his Chancellor, Denis Healey.
Among the prime movers behind the socialist insurgency was Dave Nellist, the then Labour MP for Coventry South East.
His support for the Militant Tendency, of which former deputy leader of Liverpool City Council Derek Hatton was perhaps the best-known mouthpiece, led eventually to his expulsion in 1992 for belonging to "a party within a party".
Mr Nellist was one of key figures on the Labour Left who were purged after the so-called "moderates" had regained control of the party's National Executive Committee and its labyrinth of sub committees.
The driving force behind that counter offensive was a small, tight-knit Midlands-dominated group of Labour Parliamentary and trade union 'fixers'.
Among them were the late John Golding, then the Labour MP for Newcastle-under-Lyme in Staffordshire; Roger Godsiff, then an organiser in the Birmingham office of the clerical union APEX and John Spellar, a senior official in the electricians' union the EETPU.
Mr Spellar became Labour MP for Birmingham Northfield in a by-election in 1982 only to lose his seat in the general election the following year.
Having regained control of the party, these so-called "moderates" resolved that history must not be allowed to repeat itself.
Never again, they said, should Labour have an unelectable leader like Michael Foot with an equally unappetising menu of Left wing policies which they believed most Middle England voters would never stomach, chief among them, unilateral nuclear disarmament.
Now though, the 'forgotten army', as they see themselves, have a strong sense sense of deja vu. They are on manoeuvres once again.
After this year's abortive challenge to his leadership of the party, Jeremy Corbyn is in an even stronger position than he was after his emphatic victory in 2015.
He has never wavered in his commitment to that defining doctrine for the Left, yes, unilateral nuclear disarmament, no matter that this contravenes the official policy of the party he leads.
Watch this space....
The clash of the sexagenarians
So there's quite a history behind the decision by Mr Nellist to line up with five other Midlanders among the 75 expelled or excluded socialists who have submitted a joint application to Labour's NEC to rejoin the party.
Alongside him on the list is his wife Jane Nellist, a leading campaigner for the teachers' union, the NUT, in Coventry; Peter Bradley, a former mayor of Nuneaton; Dave Griffiths, a former member of the West Midlands Labour Party Executive and Clive Walder, Chair of the Communication Workers' Union in Birmingham.
They believe they are more in tune with Jeremy Corbyn's Labour Party, complete with more than half a million new members, than what they see as the old Blairite rump in Parliament.
Intriguingly, as a leader of the Trade Unionist and Socialist Coalition, Dave Nellist is not the only veteran of those earlier hostilities who is still very much around.
On the other side, John Spellar is the Labour MP for Warley and Roger Godsiff is his counterpart in Birmingham Hall Green.
No wonder this is already being billed as "The Clash of the Sexagenarians", Jeremy Corbyn included.
Mr Spellar thinks their application should get short shrift. He tells us: "They cannibalised our party and ran candidates against us as recently as last May's council elections".
But Peter Taaffe, General Secretary of the Socialist Party says: "The election of Jeremy Corbyn as Labour leader represents an opportunity for the Labour Party to be rebuilt as a clearly anti-austerity socialist party".
So, this epic battle is rejoined once more.
And on this weekend's Sunday Politics Midlands we'll be hearing from two of those key figures on opposite sides of the argument: Dave Nellist and John Spellar.
Which makes this a programme that's not to be missed.
Join us for Sunday Politics Midlands in its usual 11.00 slot on BBC One this Sunday morning, 20 November 2016.