Southern rail: Government to rule on cancellations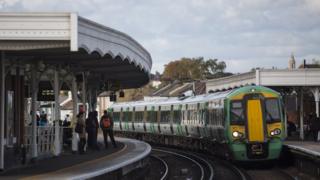 The Department for Transport is set to rule if strike-hit Southern rail owner GTR has breached its operating rules by cancelling too many trains.
GTR said more than 10,000 cancellations between the end of April and late July were down to industrial action.
The Department for Transport hopes to decide next week if the failure to meet cancellation benchmarks can be attributed to action by conductors.
A transport select committee has been demanding clarity over the franchise.
Chairwoman Louise Ellman, whose cross-party committee has been particularly critical of the "abysmal service" provided by Southern between London and the south coast, said the department should consider serious sanctions.
She said: "The department can't just sit back and let passengers suffer... they should consider revoking that franchise... or taking other enforcement measures."
Analysis: Jon Hunt, BBC South East reporter
Back in May, Southern said it was having to cancel a high number of trains because of what it described as a high level of staff sickness. It later characterised that as unofficial industrial action by guards.
The union has always maintained there is no unofficial industrial action and says that Southern is trying to hide the fact it doesn't have enough staff to run the trains.
If the DfT decides that there wasn't unofficial industrial action, Southern could face a heavy penalty.
Latest figures show GTR's services - which include Thameslink as well as Southern - also breached revised "targets" introduced to reflect the levels of disruption caused by the redevelopment of London Bridge station.
But GTR argues that cancellations and disruption caused by protracted industrial action - both official and unofficial - have accounted for much of the problem.
Rail minister Paul Maynard said if the breaches of performance benchmarks were upheld, it would be up to Transport Secretary Chris Grayling to decide on the next steps.