Southern claims 96% of conductors 'signed up' for new role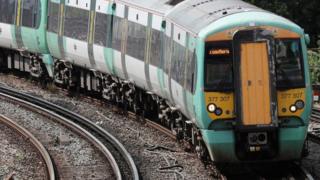 Nearly all conductors have signed up for a controversial new on-board supervisor role on Southern trains from January, the rail company has said.
The conductors had until last Friday to respond to Southern's deadline, and 215 - 96% of those required - have done so.
The change to the role has caused a bitter dispute with the unions and has led to a series of walkouts.
Mick Cash, RMT general secretary, said nothing had changed, members remained "rock solid" and the "fight goes on".
The latest 48-hour strike ended at midnight on Saturday and further stoppages are planned.
Angie Doll, Southern's passenger services director, said: "We've now got over 200 conductors signed up... disproving the union's claims that support is rock solid."
RMT general secretary Mick cash responded: "Nothing has changed in terms of the core issues at the heart of this dispute. It's about basic rail safety and access to transport services for all members of our community.
"That ground has not shifted an inch thanks to the sheer pig-headed attitude of Southern Rail and their government pay masters.
"Our members remain rock solid... and will not be bribed, bullied or beaten. That fight goes on."
'Spiteful act'
The new on-board supervisor roles will focus on "customer service" and move the operation of closing doors to the driver.
A further 222 people will remain in their existing roles as conductors on certain services, Southern said.
It is also planning to recruit a further 100 on-board supervisors to work across Southern and Gatwick Express services.
Southern said the union leadership had "stooped to a new low" by calling a strike over Christmas, calling it a "selfish, shameful and spiteful act".
GTR, Southern's parent company, said its offer to the RMT to settle the dispute had now been formally withdrawn.
Meanwhile, Aslef, the UK's biggest rail union, has suspended a strike ballot among its Southern members, because of "technical difficulties".
The RMT union is also balloting its driver members for strikes, with voting closing on 18 November.
---
RMT strike dates:
00:01 Tuesday 22 November to 23:59 Wednesday 23 November
00:01 Tuesday 6 December to 23:59 Thursday 8 December
00:01 Thursday 22 December to 23:59 Saturday 24 December
00:01 Saturday 31 December to 23:59 Monday 2 January
---