Durham teaching assistants strike will shut schools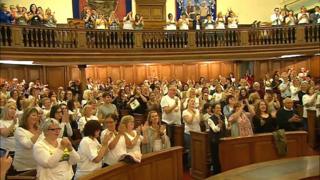 Almost 90 schools will be forced to close or cut classes during a 48-hour strike by teaching assistants in County Durham, council bosses say.
About 2,000 members of Unison are angry at Durham County Council's plan to only pay them during term time and are due to strike on 8 and 9 November.
The authority has said it is working with school governors to mitigate the impact of the stoppages on pupils.
But so far 89 schools have said they will close or partially close.
Union officials claim some assistants could lose up to 20% of their salary under the council's proposals.
The Labour-run authority has said that "the status quo is not an option", adding it faces a risk of equal pay claims from other employees if it does not act on teaching assistants.