Cameras used to monitor North East flood-risk areas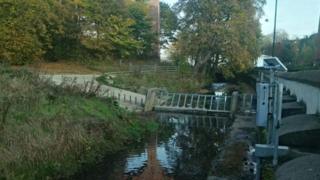 Cameras have been installed to monitor water levels in areas in the North East at risk from winter flooding.
A total of 12 cameras have so far been installed near debris screens at sites including Middlesbrough, Chester-le-Street, Morpeth and Darlington.
The Environment Agency, which installed the cameras, said they would play a "key role" in responding to flooding.
In December a series of severe storms brought damaging floods to many parts of northern England.
The cameras feed real-time images to agency staff manning an incident room in Newcastle.
An agency spokesman said: "We can now carry out real-time checks, helping us to cut down on unnecessary site visits and make sure we are concentrating on those areas where there's a risk.
"During a flood, every minute counts and we want to make sure that we are where we are needed to help reduce flood risk as quickly as possible."
The cameras have infra-red capability so they can take pictures at night and in some places are camouflaged to prevent vandalism.
Residents in flood-prone areas are also being encouraged to have a plan in place.