Invasive Asian hornet outbreak is contained, Defra says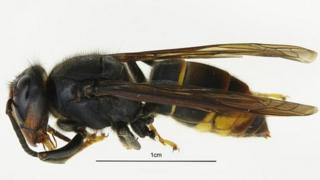 An Asian hornet outbreak in Somerset and Gloucestershire has been contained by the National Bee Unit, Defra said.
A Tetbury hornets' nest was destroyed and, although two dead hornets were found in North Somerset, no further sightings have been made.
Nicola Spence, from Defra, said: "We will continue to monitor the situation and encourage people to look out for any Asian hornet nests."
Asian hornets are a predator of bee colonies and other insects.
A single Asian hornet was found near Tetbury, Gloucestershire in September - the first time the species had been seen in Britain.
A nest was then found nearby at the top of a 55ft (16.8m) conifer tree.
As part of the protocol, the Department for Environment, Food and Rural Affairs (Defra) set up a three-mile (5km) surveillance zone.
It said it had been anticipating the arrival of hornets for "for some years" and had a "well-established protocol in place to eradicate them".
The Asian hornet is now common across Europe after being introduced in error to France in 2004 in a shipment of pottery from China.
In the summer, the non-native species was discovered in the Channel Islands of Jersey and Alderney for the first time.
Identifying an Asian hornet
Vespa velutina queens are up to 3cm (1.2in) in length; workers up to 2.5cm (1in)
Entirely dark brown or black velvety body, bordered with a fine yellow band
Only one band on the abdomen: fourth abdominal segment almost entirely yellow/orange
Legs brown with yellow ends
Head black with an orange-yellow face
Source: National Bee Unit