Cocaine confiscation rises despite fall in drugs raids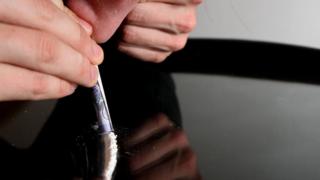 Cocaine seized by police and the Border Force has surged to the highest level in more than a decade, according to new figures.
Yet the overall amount of drugs confiscated by police fell by 11%, the fourth consecutive drop.
Authorities removed 9,321lb (4,228kg) of the class A drug in England and Wales in 2015/16.
The Home Office said the fall in overall drugs seizures came at the same time as a fall in recorded offences.
Border Force officials recorded a 31% rise in the quantity of cocaine seized.
'Large quantities'
In a report accompanying the figures the Home Office said: "Although Border Force accounted for just 4% of seizures in 2015-16, the proportion they seized in terms of quantity was much higher.
"This is due to the fact that the agency is often involved in high profile operations where large quantities of drugs are seized, for example at airports or ferry ports."
There was also a sharp increase in the amount of cannabis recovered, doubling from 33,300lb (15,105kg) to 67,226lb (30,493kg) - the highest level since 2008/09.
But overall, the number of drug seizures fell to 148,553 in 2015-16. This came along with a 13% fall in the number of recorded drugs offences, 147,540 in the same year.
There were wide differences between police forces, with Norfolk recording a 40% fall in drugs seizures.
However, seven forces recorded a rise in seizures and in Wiltshire it was 40%.
A Home Office spokesman said: "We have seen a reduction in drug misuse among adults and young people compared with a decade ago and we are working with other government departments and key partners to develop a new drug strategy which will be published in the coming months."