Yorkshire Ambulance staff 'face violence' every week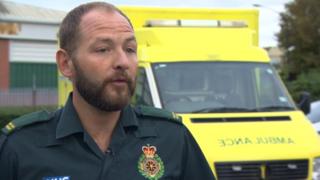 Ambulance staff said they face "violence and aggression" on a weekly basis as figures reveal a 50% increase in reported incidents.
The Yorkshire Ambulance Service (YAS) said verbal and physical attacks on staff rose from 406 in 2013-14 to 606 in 2015-16.
It said attacks on staff were "unacceptable".
Richard Bentley, a paramedic in Leeds for six years, said he had faced three serious assaults in five years.
He said: "I have been bitten, I have been headbutted and somebody has come at me with a knife. All three of those involved were drunk.
"Staff face violence and aggression on a daily basis."
'Take action'
Mr Bentley, who is also a Unison representative, said at one time staff accepted it as part of the job but are now more willing to report even minor incidents.
Helen Carter, from YAS, said: "While there has been an increase in the number of abusive incidents against our staff, there has been a reduction in the severity of these incidents.
"The safety of our employees is of paramount importance to Yorkshire Ambulance Service (YAS) and we seek to take action against those who assault our staff."
She said the service asked staff to report all incidents which explained the rise in figures.
"Physical and verbal attacks on any member of NHS staff are completely unacceptable and we are doing everything we can to prevent them," she added.
Mr Bentley said all three individuals who attacked him had faced prosecution and staff received strong support from both the service and West Yorkshire Police.