Red Arrows aerobatic display team perform in China for first time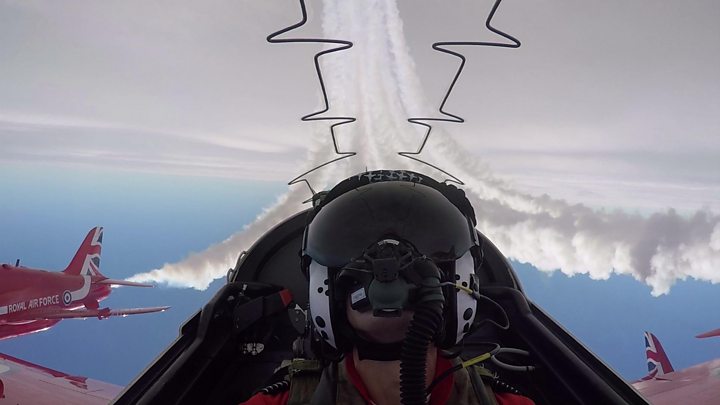 The Red Arrows aerobatic display team has performed its first ever public display in China.
The Lincolnshire-based team is currently taking part in a 60-day world tour aiming to promote "the best of British".
The display was in front of thousands of people on the opening day of Airshow China in Zhuhai, the team said.
It takes the number of countries the team has performed in since its formation in 1965 to 57.
Sqd Ldr Dave Montenegro, team leader of the RAF aerobatic team and pilot of Red 1, said: "It is a huge honour to add to the amazing number of countries in which the Red Arrows have performed by having the privilege to display in China.
"We're proud to have the opportunity to showcase the best of British to an audience who have not previously seen the team live."
The tour has also visited parts of the Middle East, India and Pakistan.
The China visit comes a day after Defence Secretary Sir Michael Fallon said the display team would be "around for a while yet" amid some uncertainty about their long-term future.
---
History of the Red Arrows
The RAF had several aerobatic display teams in the 1950s and 1960s, but decided to disband them and form a single, full-time professional team
The name Red Arrows was chosen to combine the appeal and expertise of two earlier teams, the Black Arrows and the Red Pelicans
The team was founded in 1965 at RAF Fairford in Gloucestershire and is currently based at RAF Scampton in Lincolnshire
Since its formation, the team has performed more than 4,500 displays in 57 countries
---