Police officer has case to answer' over Coventry arrest death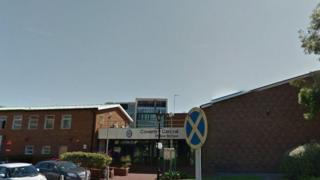 A police officer faces a disciplinary procedure after failing to make sure a man in custody was medically examined after he took cocaine.
Mark Yafai, 27, died in hospital hours after being taken into custody in Coventry after a disturbance in 2015.
A police watchdog said the officer should have ensured Mr Yafai, who told officers he had taken the drug, was examined.
West Midlands Police said it had reminded staff about its procedures.
The Independent Police Complaints' Commission said the officer in question should face management action in the form of advice from a senior officer.
For more Coventry and Warwickshire news
Mr Yafai, from Birmingham, was taken into custody at Coventry Central Police Station at about 04:30 BST on 1 July. After becoming unwell, he was taken to hospital just after 06:30 BST and died shortly afterwards, the IPCC said.
An inquest concluded his death was drug-related, it added.
The officer should also have placed Mr Yafai on a higher level of observation, said the IPCC adding, however, more regular checks were carried out by another officer in the custody suite at her own discretion.
A doctor's report said as Mr Yafai did not appear on CCTV to be under the influence of drugs while being booked into custody, any medical intervention would likely have consisted of observation and would probably not have changed the outcome.
The IPCC conclusions included a recommendation that observation levels should be detailed in custody record risk assessments, which did not happen in Mr Yafai's case.
A force statement said: "We've taken measures to remind all staff about their responsibility to ensure that appropriate risk assessments are completed and recorded when booking someone into custody who has admitted taking illegal drugs."