Corn snake recovered from couple's car after M5 scare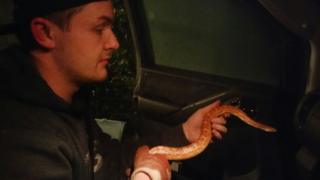 A snake that gave a couple a shock when it appeared in their newly purchased car has been recovered four days later.
Claire Brealey and her partner Gavin Reed became aware of the snake when it wrapped around their dog's legs as they drove home on the M5 in Worcestershire on Thursday.
They pulled over but continued their journey when they failed to find him.
The reptile was finally found behind a piece of plastic panel on the passenger side of the car on Halloween night.
For more stories about rescued animals see our Pinterest board
Ms Brealey, from Bristol, said they were too scared to drive the Nissan Navara while the snake was at large - and even made a futile bid to return the car to the Sheffield dealer they bought it from.
She said: "We had done all kinds of things to try and lure it out, we had mice suspended, hot water bottles - it is such a relief [to have found it]."
She said their friend, mechanic Tom Haley, helped them find the reptile.
"Tom said 'we are not leaving until we find it'," she said.
"We unclipped this thing and there he was, perfectly healthy. It was bizarre."
Central Motorway Police Group came across the couple on the hard shoulder of the M5, between junctions seven and eight, at about 21:00 BST on Thursday.
They identified the snake as a harmless Corn snake but it slithered away and they were unable to find it.
It later emerged that the 5ft (1.5m) reptile belonged to the eight-year-old son of Fiona Wellington, from Sheffield.
It went missing in June shortly before she sold her car. She came forward to claim ownership after reading about the couple pulling over.
Mrs Wellington said she felt "awful" the snake had caused Ms Brealey so much trouble.
"I think he had made quite a mess," she said.