North East Ambulance Service rated good by inspectors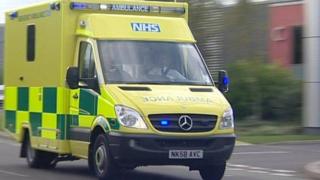 The North East Ambulance Service (NEAS) has been rated good despite failing to get to some emergencies quickly enough.
A team of 50 Care Quality Commission inspectors found staff were "passionate and enthusiastic" and provided an effective and caring service.
The NEAS attends 400,000 call-outs a year and serves 2.7 million patients.
Service chief executive, Yvonne Ormston, said she was delighted with the rating, but said improvements still needed to be made.
The team assessed the service's urgent and emergency care, patient transport services and emergency planning and rated them "effective and well-led".
'Difficult circumstances'
Inspectors found managers were struggling to recruit enough paramedics and needed to respond to life-threatening calls more quickly.
The service fell below the national standard for responding to "Red 2" calls - incidents which are serious but less immediately time critical, such as strokes or fits.
Between April 2015 and March 2016, the service failed to reach the national target of 75% and was fifth of the 10 ambulance services in England, with responses at 68.6%.
Ms Ormston said: "Our workforce is dedicated to providing the best possible patient care, often in incredibly difficult circumstances and I am pleased on their behalf that this has been recognised.
"While we have demonstrated that our service is good for patients, we know there are areas we need to improve."