Prime Minister backs £1bn West of England devolution deal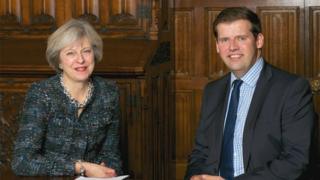 A devolution agreement worth £1bn to the West of England will go ahead, the Prime Minister has confirmed.
In June, Bristol City, Bath and North East Somerset and South Gloucestershire Councils voted to accept the government deal of £900m over 30 years along with an elected Metro Mayor.
Following Brexit, there was speculation Theresa May would drop the project.
But in a letter to Bath MP Ben Howlett, Mrs May said "the deals already in place" would "go ahead as planned".
She said: "The government's position on city devolution has not changed.
"Devolution deals will play a significant role in supporting growth up and down the country."
'Excellent opportunity'
In response to the letter, Conservative MP Mr Howlett said he was "delighted" Mrs May was "supporting the devolution deal".
He said: "I believe this is an excellent opportunity for Bath to secure vital infrastructure funding, particularly with regards to transport projects, and presents an opportunity for significant new projects to be undertaken such as the A36/46 link road to help tackle Bath's congestion."
The deal, which was made in the Chancellor's March budget, includes creating a regional mayor or Metro Mayor.
The councils would also be given more power over key areas such as transport, roads planning and housing as well as receive £30m a year to boost growth.