MPs demand action on 'dangerous' A34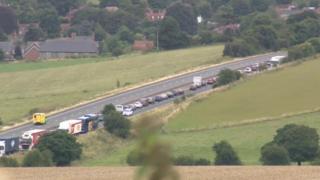 A road where five people died in one month has been called "dangerous" and "no longer fit for purpose" by MPs.
A stretch of the A34, which runs between Hampshire, Berkshire and Oxfordshire, was the site of an eight-vehicle crash which claimed the lives of a family of four in August.
Oxfordshire MPs have called on the Department of Transport to act on improving road safety.
The transport minister said he will look at suggestions.
'Problems will get worse'
Conservative Wantage MP Ed Vaizey said: "Action is long overdue and the need to improve road safety alone would justify a significant amount of money and time from the Department for Transport."
During a debate with transport minister John Hayes, Mr Vaizey recounted recent deaths on the dual carriageway.
On 10 August a lorry driver on his phone collided with a car on the A34 northbound between Chievely and West Ilsley, killing mother Tracy Houghton, 45, from Dunstable, her two sons, Ethan, 13, and Joshua, 11, and her partner's daughter Aimee Goldsmith, 11.
Later that month a crash around Hinksey Hill in Oxfordshire killed three-year-old Isla Wiggin from Fleet in Hampshire. Her unborn brother died in the collision.
Mr Hayes said: "The significance of this road is not lost on me and we may be able to look [at it] in the road investment strategy."
Labour MP for Oxford East Andrew Smith reiterated Mr Vaizey's remarks and added that development of the road was required for the economic development of the region.
He said: "It needs to be of motorway standard to guarantee the standard we all want to see.
"And the problems are only going to get worse in the future."
Newbury MP Richard Benyon added: "It is extremely dangerous. There have been 2,040 accidents in the last 22 years."