Number of ex prisoners under supervision rises 60% in seven years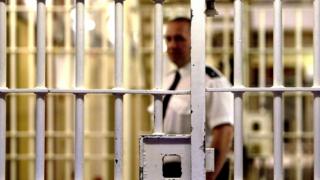 The number of violent and sex offenders being monitored after leaving prison has risen by 60% in seven years.
Figures released in a report by the Ministry of Justice (MoJ) show there are currently 71,905 people under supervision in England and Wales.
The figures relate to offenders managed under a system called Multi Agency Public Protection Arrangements, or Mappa.
The MoJ has yet to comment on the figures.
The Mappa system is designed to assess and manage the risk posed by the most serious sexual and violent offenders, and reduce the chances of them re-offending.
It requires the police, probation, prisons and other agencies to work together to assess the level of risk, share information and put a joint plan in place.
People who commit a sexual offence are placed on the Mappa programme, along with the most violent offenders.
All police forces across England and Wales have seen an increase in the number of registered offenders being monitored.
Merseyside and Cleveland Police saw the biggest increases, with both forces seeing a 98% rise in the number of registered offenders living in their force areas.
The total number of sexual offences recorded by all police forces has doubled in the last seven years from 53,006 in 2009-10 to 106,378 in 2015-16.
A large part of this rise is attributed to an increase in the number of historic sex crimes being reported.
Some 73% of monitored offenders have committed some form of sexual offence.
---
What is the sexual offenders register?
The register was introduced as part of the Sex Offenders Act 1997 and has been amended under the Sexual Offences Act 2003.
Registered offenders have to provide the police with their name, address, date of birth, passport and bank details.
Someone might be on the register indefinitely or for a specified number of years.
From 2012 those people given a lifetime registration were given the ability to apply to be removed from the register 15 years after being released from prison.
---
Although the number of registered sexual and violent offenders has reached a record high, the number is equivalent to 0.1% of the total population of England and Wales.
"Society has a misplaced image of what a sex offender looks like" says Professor Simon Hackett, from Durham University and the chair of the National Organisation for the Treatment of Abusers (NOTA).
"Lots of people think of sex offenders as being predators, old men lurking near children's playgrounds ready to attack a stranger, but the unfortunate reality is that 90% of victims know their attacker.
"Most people don't realise that up to a third of all sexual offences are committed by someone under the age of 18".
Former probation officer Tom Squire says reoffending rates for registered offenders is low.
"People think that if someone is on the register they pose a big risk to the public, and yes in a small number of cases that is true, but the majority of sex offenders I've worked with want to rehabilitate and rebuild their lives."
Mr Squire now works for the Lucy Faithfull Foundation, a charity working to prevent the sexual abuse of children.
The charity reports that 1,000 people a month are downloading self help material designed to help them or someone they know from looking at illegal images of children online.
"We shouldn't look at the number of people on the register and say these people are the only people in society who pose a risk" said Mr Squire.