The legacy of Enoch Powell makes drama out of a crisis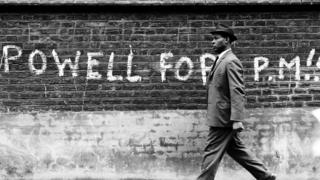 It became known as "The Rivers of Blood Speech."
It condemned Enoch Powell to the margins of British politics and its reverberations continue to this day.
Paradoxically, those words themselves never passed the lips of the Conservative MP for Wolverhampton South West.
On that fateful day in 1968 when he delivered one of the 20th Century's most explosive political speeches at the Midland (now the Burlington) Hotel in Birmingham, what he said was: "Like the Roman, I see the Tiber foaming with much blood".
A renowned scholar of Latin, Mr Powell was conjuring up images of epic events around the great river of the Eternal City.
But for the newspaper headline writers of the day, "Rivers of Blood" it had to be.
His fundamental message was clear enough though. He slated the immigration policies of successive governments and, in particular, the Race Relations Act which he was convinced was putting the country on course towards racial violence in a Britain where "the black man has the whip hand".
The human impact of Powell's explosive intervention are now to be explored in a play by Chris Hannan entitled "What Shadows" which is being staged at the Birmingham Rep between Thursday 27 October and Saturday 12 November 2016.
For me, one of the most intriguing questions about Powell has always been whether or not he fully understood in advance just how incendiary his remarks were to prove.
His friends at the time and since argued that he was the victim of sensationalist press coverage, in which journalists had taken too literally what had been intended more as a scholarly analogy rather than a categorical prediction of trouble on the streets.
In their promotional material, the Rep quote Enoch Powell saying: "I was a storm. I was also a man entirely alone in a storm. There were forces beyond my control and I was one of them".
This reinforces the view of Powell as some sort of innocent who had fallen foul of unintended consequences.
I have never been convinced by this suggestion.
I simply cannot believe that a man with his commanding intellect could have been so blissfully unaware. But even if he did not explicitly intend his remarks to be interpreted as they were, he undoubtedly failed another important test. Politicians have to be professional communicators just as much as newspaper journalists and broadcasters do.
Just as I have to weigh-up the likely consequences of what I say on air or write here on my blog, so do they.
"I was quoted out of context" is more often an excuse than an explanation.
The other big question concerns the accuracy, or otherwise, of Powell's assertions.
During the 1980s, riots in major British cities including Handsworth in Birmingham led to the slogan "Enoch was Right" being adopted by the National Front, forerunner of the British National Party.
And as recently as nine years ago Nigel Hastilow, the then Conservative prospective candidate for Halesowen and Rowley Regis, wrote in the Express and Star: "When you ask most people in the Black Country what the single biggest problem facing the country is, most say immigration."
UKIP said at the time Mr Hastilow was merely expressing views held by millions of British voters.
But Mr Hastilow was forced to resign as the Conservative candidate because as the then party chair, the Meriden MP Caroline Spelman put it: "His remarks have undermined the good work that David Cameron (then the Opposition Leader) has done on this issue".
Times change and the EU Referendum has demonstrated once and for all that immigration is no longer the issue that dare not speak its name.
Politicians of all shades of opinion opinion now acknowledge they have to respond to the fundamental concerns expressed in areas like the Black Country and Stoke-on-Trent where the Leave vote was the highest in the UK at almost 70%.
These are among the questions not just for a stage play, but also for this weekend's Sunday Politics Midlands. Among our studio guests will be one of today's contingent of Black Country MPs, Adrian Bailey, Labour, West Bromwich West; and Nadhim Zahawi, Conservative MP for Stratford-on-Avon. He is himself an immigrant from Iraq.
I hope you can join us too, in our usual 11.00 slot on BBC One this Sunday 30 October 2016.